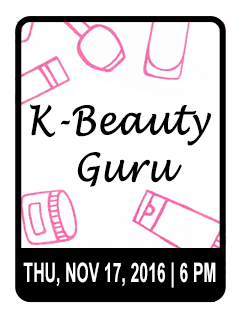 Dive deep into the K-Beauty world with Soko Glam co-founders Charlotte and Dave Cho. The evening will begin with a panel discussion led by Vogue editor Monica Kim about Chos' journey with Soko Glam and The Klog, and how their company has become the destination for everything K-Beauty.

The first thirty to register for the event will receive a goodie bag with Korean beauty products and a discount code to use on

SOKO GLAM

.

Three lucky guests win a signed copy of Charlotte's book, The Little Book of Skin Care: Korean Beauty Secrets for Healthy, Glowing Skin.


K-Beauty Guru: Charlotte Cho from SOKO GLAM
Thursday, November 17, 2016 | 6 PM
FREE for Explorers & Above with RSVP
Members $10
Non-Members $20
If you have any questions, please contact Kloe Byun or (212) 759-7525, ext. 321.
---
Charlotte Cho
An expert on all things Korean skin care, Charlotte Cho is the board-certified esthetician behind Soko Glam, a beauty and lifestyle shop that offers the best Korean beauty products. Charlotte has been featured in national and international publications including the New York Times, Vogue, Allure, Marie Claire, Into the Gloss, and Refinery29. She is the author of The Little Book of Skincare: Korean Beauty Secrets for Healthy, Glowing Skin (HarperCollins). With Korean beauty culture exploding in popularity, Charlotte has been sought out for her expert advice and insight on the tenets of Korean skin care. She writes for publications such as Elle.com and has partnered with companies such as Sephora, Birchbox, Urban Outfitters, and AmorePacific as their K-beauty expert.
Dave Cho
Dave Cho is Co-Founder and CEO of Soko Glam, a lifestyle brand and ecommerce beauty destination that offers the best selection of Korean beauty products and content. A military veteran with over a decade of experience building and leading teams, Dave spent more than eight years on active duty in the U.S. Army, including a deployment to Iraq. Dave is a graduate of Columbia Business School, TechStars Patriot Bootcamp, and was selected as a 2015 Lang Fund venture.