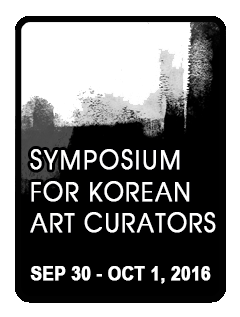 The Korea Society and the Korea Foundation organized the Symposium for Korean Art Curators from Friday, September 30, to Saturday, October 1, on the theme of "Challenges in Presenting Korean Arts and Culture at Museums in the United States." The event consisted of a one-day conference and a one-day field trip to Korean arts and culture events around the New York City area.

This symposium examined ongoing challenges and rewards in presenting Korean arts in the United States and strengthen networks among Korean art curators and relevant scholars.

---
SYMPOSIUM FOR KOREAN ART CURATORS
SEPTEMBER 30 - OCTOBER 1, 2016
Day 1: Friday, September 30
9:00 AM | Opening Ceremony

10:00-12:00 PM | Acquisition: Sustainable Korean Arts and Culture: Share examples of the acquisition of Korean artworks of high quality and exchange opinions on assuring the presence and sustainability of Korean arts and culture at U.S. museums

Session Chair: Soyoung Lee (The Metropolitan Museum of Art)

Presenters: Joan Cummins (Brookyln Museum), Sooa McCormick (Cleveland Museum of Art), Daisy Y. Wang (Peabody Essex Museum)

2:00-4:00 PM | Exhibition and Education: Creative Ways to Promote Korean Arts and Culture Share experiences about recent exhibitions and educational programs/ Exchange ideas on more effective ways to introduce Korean arts and culture to local audiences

Session Chair: J. Keith Wilson (Freer and Sackler Galleries)

Presenters: Hyonjeong Kim Han (Asian Art Museum), Ann R. Kitagawa (Jordan Schnitzer Museum of Art), Thomas R. Vick (Freer and Sackler Galleries), Souyeon Woo (The National Museum of Korea)

Day 2: Saturday, October 1 Field Trips

The Power and Pleasure of Possessions in Korean Painted Screens (Chaekgeori) at Charles B. Wang Center of Stony Brook University

New exhibition at Korean Gallery at The Metropolitan Museum of Art
If you have any questions, please contact Kloe Byun or (212) 759-7525, ext. 352.
---
A weblink to the Korea Foundation