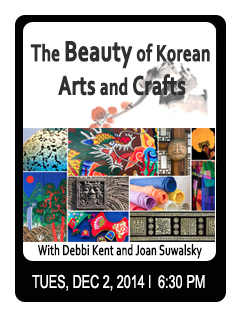 Celebrate Korea's handicrafts and artistic traditions with adoptive parents Debbi Kent and Joan Suwalsky in a talk about their new book, 100 Thimbles in a Box: The Spirit and Beauty of Korean Handicrafts . The authors will share their experiences in researching and writing this beautiful book of nearly 500 photographs illustrating 44 traditional arts, including ceramics, fiber arts, paper, inlay, metal, wood, and painting, which they wrote to help introduce the relatively little-known crafts of Korea to Western audiences.

A holiday Korean craft fair follows, featuring beautiful and unique handicrafts and art work from local Korean artists working in many of the traditional arts depicted in 100 Thimbles in a Box.Purchase the perfect holiday gift or simply admire how today's artists are working in traditional art forms with innovative and contemporary results.
Tuesday, December 2, 2014 | 6:30 PM
Members: Free

Nonmembers: $10
---
Featured Artists:
Karen Ahn, Maedeup Artist
Karen Ahn was born in Seoul, Korea. She studied Maedeup and other Korean folk art in college before coming to the U.S. to get her masters in graphic design at Pratt Institute. She worked in New York as a graphic designer and, for the past 20 years, has been creating Maedeup. She has taught the art of Maedeup in workshops at the Philadelphia Museum, Korean Cultural Service, Dong Hwa Korean Culture Center, Flushing Town Hall, Wave Hill, and Public Libraries throughout NYC. She has also exhibited her pieces at the Korean Cultural Service, Longwood Art Gallery, and Lee Young Hee Hanbok Museum.
Seongmin Ahn, Painter
Seongmin Ahn graduated from Seoul National University and Maryland Institute College of Art. Her work takes Asian traditional painting as a starting point and transforms it into something experimental with her own interpretation, bridging tradition and modern, as well as East and West.

She received a grant from Pollock Krasner Foundation and a first prize from AHL Foundation. She has been reviewed in the Washington Post, the Philadelphia Inquirer, NY Arts magazine, Baltimore Sun and Plain Dealer. She has exhibited nationally and internationally, including at the Delaware Center for the Contemporary Arts, Queens College Art Center, and Hello Museum.
Sungho Choi, Painter and Mixed Media Artist
Born in Seoul, Korea, Sung Ho Choi has lived and worked in New York City and Bergen County of New Jersey since 1981. He earned his master of Fine Art degree from Pratt Institute, New York City in 1984. Over 35 years, his works have been shown at numerous exhibitions in the North and Central America, Asia and Europe. In 1993, Choi was commissioned by the Percent for Art program in NYC to create two permanent murals, My America and American Pie (completed 1996) for Intermediate School 5 in Elmhurst, New York City. The models of My America and American Pie have been traveling nationwide since 2011 through the exhibition titled, Infinite Mirror: Images of American Identity. In 2004, he completed another permanent public art project, Quiltroad, for the U.S. Federal Courthouse in Seattle, WA, commissioned by U.S. General Services Administration, Washington, DC. Awards that he has received include the Pollock-Krasner Foundation Grant in 1995, the Artists' Project Grant from The National Endowment for the Arts, The Rockefeller Foundation, Andy Warhol Foundation for the Visual Arts, Inc. in 1996.
Eunjeon Kim, Ceramic Artist
Eunjeon Kim was born in Korea and received her BFA from the School of Arts at Hong-Ik University. She is currently a studio artist based in Virginia and has had numerous group and solo exhibitions around the country, including recent group exhibitions at Glenview Mansion Art Gallery in Rockville, Maryland and Workhouse Arts Center in Lorton, Virginia. Over the last decade, she has also had over 30 exhibitions in the Washington, D.C. area. She is currently the president of Han-Mee Artist Association and was previously vice president of the Korean American Artist Association and a director of the Hong-Ik Art Studio.
Jong S. Kim, Hanji Artist
Jong S. Kim has dedicated herself to teaching traditional Korean paper arts and crafts for decades. She is the director of Kim Jong Sook Hanji Arts and Craft Institute, the chairperson of the Korean Artist Society of America., and a Hanji craft instructor at Joeun School, Korea-American Association of New Jersey.

Kim has received numerous awards and prizes for her work, including "Outstanding Artist Award" at the National Crafts Exhibition in 2003 and the Seoul Traditional Art Crafts Competition Winner also in 2003.
Yanghee Kim-Lee, Jewelry Artist
Born in Deagu, Korea, Yanghee Kim-Lee received her BFA from the School of Arts at Hong-Ik University. She currently resides in Washington, D.C. and designs Korean-style brooches and other accessories using beads and metal. Her designs have been displayed in many group and solo exhibitions, primarily in the Washington, D.C. area. She is currently a director at the Hongik Art Studio.
Wonju Seo, Textile Mixed Media Artist
Wonju Seo is a a Korean-American textile artist. She was born in South Korea where she received her B.F.A in Fine Arts Painting from Hongik University and currently lives in New Jersey. She has been working primarily with textiles, especially silk, for over 12 years. Her work has been deeply inspired by Korean antique bojagi. She received the Individual Artist Fellowship Award from the NJ State Council on the Arts in 2012, the Thomas Contemporary Quilt Recognition Award (Collector's Choice) from the Visions Art Museum, San Diego, CA in 2012, and an Honorable Mention from the Smithtown Township Arts Council in 2011. Her work, Inspiration of Blue, was reviewed in the New York Times article entitled Seeing Asian Cultures Through an Indigo Lens in 2014. Her Wearable Pojagi is in the Newark Museum as part of its permanent collection.
Sungsook Setton, Painter and Calligrapher
Sungsook Setton is a Korean-American artist and calligrapher. Besides her training in brush painting and calligraphy under Chinese and Korean masters, she has also studied Western art in Germany, the UK, and the United States, obtaining her BA in Studio Art at Stony Brook University and MFA in interdisciplinary art at Goddard College. Setton's work has been widely exhibited in Canada, the UK, Taiwan, Korea, and the United States. She has received two dozen awards for her work, including Best of Show at the National Juried Exhibition by the Sumi-e Society of America. She serves on the faculty of Westchester Community College and the Art League of Long Island. Her work has been deeply influenced by artistic traditions in the East and West, drawing from art training in Europe, the US, and her native South Korea.
Seasonal Teas and Korean Sweets will be provided by Haelin Lee
Haelin Lee is an accomplished Korean chef who learned the art of traditional Korean cooking in the Blue House where she assisted with meal preparations for the President of South Korea and his guests as an assistant to Master Chef Jungyoung Sun. Princess Julia Lee, the daughter-in-law of Prince Yeong of the Empire (the last Korean Prince of the early 20th century), mentored Ms. Lee on traditional Korean food presentation and taste based on her experience in Naksunjae Palace. For the past five years, Ms. Lee's private catering business, Art of Eating, has provided homemade traditional Korean food to a growing clientele.
---
The Beauty of Korean Arts and Crafts is generously sponsored by Asiana Airlines.