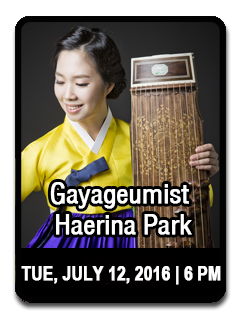 Dr. Haerina Park, professor of Korean Music at Chung-Ang University, performs a diverse program of traditional and modern compositions for the Korean zither. Dr. Park is joined by Chun-Seung Lee on drums (changgu), as well as Hyun-Ju Kim and Sang-A Kim, also on zither (gayageum).


Program
최옥삼류 가야금 짧은 산조 | Gayageum Sanjo (Choi Ok-Sam School)
25현 가야금 독주곡 찬기파랑가 | Changiparangga, Composed by Jeung, Dong-Hee
목각인형의 춤 | Dance of the Wooden Doll, Composed by Choi, Ji-Hye
노랫가락 | Noraetgarak, Composed by Hwang, Ho-Joon
돈돌나리 |
Dondolrari, Composed by Park, Bum-Hoon
---
Gayageumist Haerina Park
Tuesday, July 12, 2016 | 6 PM
$10 Members, $20 Guests
Explorer, YPN and above attend this program for FREE with RSVP
5:30 PM | Registration
6:00 PM | Screening & Performance
If you have any questions, please contact Luz Lanzot or (212) 759-7525 ext 309.
---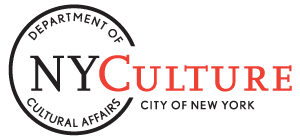 This program is supported, in part, by public funds from the New York City Department of Cultural Affairs in Partnership with the City Council.
---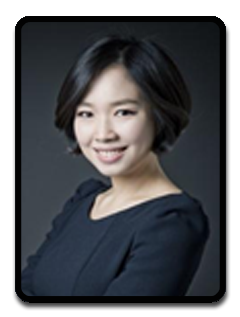 Haerina Park is currently a professor in the department of Korean Music at Chung-Ang University in Korea. A Korean native, Ms. Park holds a B.A. and Ph.D. from Chung-Ang University and earned her master's degree from New York University in 2007. Ms. Park has extensive experience on the gayageum and other traditional instruments with several orchestras, including the Traditional Korean Orchestra at the National Theater in Korea, Korea W Philharmonic Orchestra at the Seoul Art Center, and the New Jersey Philharmonic Gala Concert at Carnegie Hall. She is also a representative of Gayastra, a gayageum ensemble orchestra that has released several albums. She trains younger students and published a book called Research on Yoohee-Chang-ga (Korean children's songs) Before Liberation of Korea (2008), Ms. Park is making strong efforts to develop Korean music education.
---