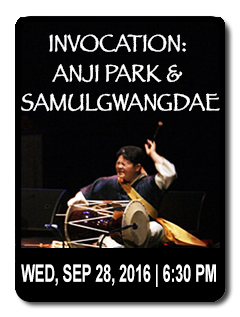 Master percussionist Anji Park leads SamulGwangdae, a group of artists known for their high energy performances combining song and dance. Park trained under Master Sungho Lee and Kwangsoo Lee to learn binari and specializes in kkwaenggwari. Join us for this evening of samulnori that will bring you to your feet!


Percussionists of SamulGwangDae
Anji Park
Hyunjin Jang
Han Bok Kim
Chan Sun Shin
Dong Joo Lee

Supporting Artists
Sungshil Yu, gayageum & vocals
JinHee Kim, dancer
Program
1. Invocation (축원)
Binari, Introductory Prayer Chant or Shaman Ritual
Among the four major pieces of samulnori, the binari is most akin to a religious ritual, featuring pleas to the spirits for blessings. The piece welcomes the spirits to spread good luck to the audience.
2. Taepyeongmu (태평무)
Taepyeongmu, literally "great peace dance," functions as a wish for harmony. This artistic dance employs techniques and musical patterns from Gyeonggi-do danggut, a shamanic ritual that honors the village god of Gyeonggi province.
3. Chunghyang Sarangga (가야금병창 춘향가 중 사랑가)
Gayageum byeongchang is a genre in which the gayageum player also performs vocals. The song is the main pillar and the instrument supports as an accompaniment.
Chunghyangga is the most famous p'ansori and is considered one of the best musically and as a work of literature. Sarangga is a song depicting the love story of Chunhyang, one of the most well-known Korean folk tales.
4. 설장구&사물놀이 위한 "NORI"
Perhaps the most famous of all samulnori pieces, samul nongak garak, is an arrangement of the representative rhythms from all around Korea, performed in a seated position. Three separate pieces, Yangnam Nongak, Uddari Pungmul, and Honam Udo-gut, performed in the early years of samulnori were later combined into this single piece. This piece highlights the contrasting timbre of the gongs and drums, arranged in a way that embodies the principles of winding, bending, and blending.
---
Invocation: Anji Park & SamulGwangDae
Wednesday, September 28, 2016 | 6:30 PM
$10 Members, $20 Guests
Explorer, YPN and above attend this program for FREE with RSVP
6:00 PM | Registration
6:30 PM | Performance
If you have any questions, please contact Luz Lanzot or (212) 759-7525 ext 309.
---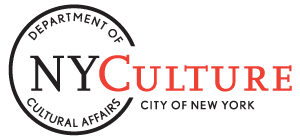 This program is supported, in part, by public funds from the New York City Department of Cultural Affairs in Partnership with the City Council.
---
Anji Park earned his Ph.D. in Music from ChungAng University. He is a master of Important Intangible Cultural Asset No. 92, Taepyeongmu. He is the Director of the Park Anji YeonHee Company and an adjunct Professor at ChungAng University, Korea National University of Arts, Sejong University, and Ewha Woman's University. Master Park is also an instructor at National Gukak High School and National Traditional Arts High School. He is the Chairman of the Korean Traditional Performing Arts Association Samulnori Division, was the recipient of the President's Prize at the International Samulnori competition in 1994, and currently a member of SamulGwangDae.
SamulGwangDae
Founded in 1988 by Duksoo Kim, Kwangsoo Lee, Yongbae Kim, and Jongsil Choi, SamulGwangDae is dedicated to performing and preserving traditional Korean music and dance. They earned the grand prize at the 1st World Samulnori Competition.

---