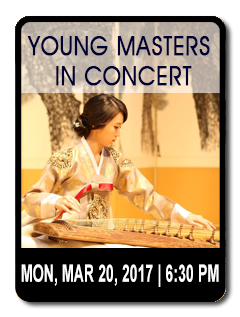 The winners of the prestigious Onnara Gugak Competition visit The Korea Society for a special concert of traditional Korean music. The young masters will perform gayageum sanjo, p'iri sangnyeongsanpuri, jeongga suyangsanga, and the famous Arirang medley. The concert also features chunaengjeonon, a court dance inspired by singing nightingales on a fine spring day.

Young Masters in Concert:
Winners of the Onnara Gugak Competition
Tickets:
Free for Supporter, Fellow & Patron Members
$10 Individual Members
$20 Non-members
Supporter, Fellow & Patron Members Register Here

---
ARTISTS


P'iri - TaeHoon Choi


Presidential Prize, 2016 Onnara Gugak Competition


Jeongga - SeungRan Kim


Gold Medal, 2016 Onnara Gugak Competition


Gayageum - JeeHyun Cho


Gold Medal, 2016 Onnara Gugak Competition




Dance - SolBee Oh




Gold Medal, 2016 Onnara Gugak Competition
---
This performance is presented in collaboration with the Korean Cultural Center New York and the National Gugak Center.
If you have any questions, please contact Luz Lanzot or (212) 759-7525, ext. 309.
---
Gugak, or traditional Korean music, has been passed down through the ages and represents the breath of Korean history and culture. The National Gugak Center is the principal institution engaged in producing and disseminating traditional Korean music and dance. The Center's Court Music Orchestra, Folk Music Group, Traditional Dance Theater, and Contemporary Gugak Orchestra actively perform to preserve and develop gugak. Also, the Gugak Research Office was established for academic research on Korea n music.

In addition to performance and research, the Center is engaged in education, and provides lectures for teachers, families, and foreign residents in Korea.

The Center's museum exhibits 5,000 items representing the history of Korean music. The Namwon National Gugak Center for Changgeuk, the Jindo National Gugak Center (known for its training programs), and the Busan National Gugak Center are affiliated branches.
---