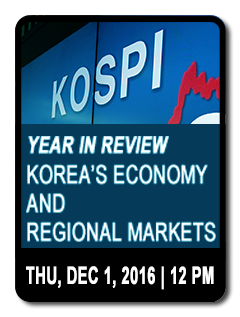 Korea Society president Thomas Byrne facilitates a conversation with the International Monetary Fund's Asia and Pacific Department's Deputy Division Chief, Koshy Mathai, on how the Korean economy and regional markets fared in 2016.

Year in Review: Korea's Economy and Regional Markets


Koshy Mathai
Deputy Division Chief, IMF's Asia and Pacific Department
Tickets: $10 for Members, $20 for Guests
Explorer Level and YPN Members Register Here

12:00 PM | Arrivals & Reception
12:30 PM | Discussion
If you have any questions, please contact Nikita Desai or (212) 759-7525, ext. 355.
---
Koshy Mathai is Deputy Division Chief in the IMF's Asia and Pacific Department, covering Korea and Mongolia. In the last few years, he has also led missions to Maldives and Fiji and served as resident representative to Sri Lanka. Earlier in his career, he worked in the Fiscal Affairs and Western Hemisphere Departments of the IMF, covering a range of countries including the United States, Turkey, and Zambia. Mr. Mathai has been at the IMF for 17 years. He holds a bachelor's from Harvard and a PhD from Stanford, both in economics.
Thomas J. Byrne (moderator) joined The Korea Society as its President in August of 2015. He came to the Society from Moody's Investor Services, where he was Regional Manager, Spokesperson, and Director of Analysis for the Sovereign Risk Group in the Asia-Pacific and Middle East regions. Before moving to Moody's in 1996, he was the Senior Economist of the Asia Department at the Institute of International Finance in Washington DC. Mr. Byrne has an MA degree in International Relations with an emphasis on economics from The Johns Hopkins School of Advanced International Studies. Before his graduate work, he served in South Korea for three years as a US Peace Corps volunteer.
---