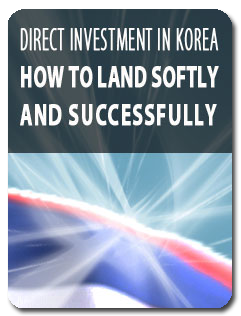 Hong-Chul "Hank" Ahn, Commissioner of Invest KOREA, visits The Korea Society to outline the unique opportunities for foreign direct investment in Korea. Mr. Ahn will review the current investment climate, location benefits, promising industries, and high-quality human resources available to the foreign direct investor in Korea, and explain the services Invest KOREA offers to help foreign companies "land softly and successfully" in Korea.
Also, the Saemangeum Development Project, a global city under development for international business and tourism on over 400 square kilometers of reclaimed land, will be introduced by So Hee Kim from the Saemangeum Development Planning Executive Office at the Prime Minister's Office. This is a major investment to build a global economic hub using green technology and renewable energy.
Invest KOREA was established in 2003 with the sole purpose of supporting the entry and successful establishment of foreign business in Korea and offers foreign investors a one-stop service that allows them to join many of the world's most successful corporations who have already selected Korea as an investment destination. Invest KOREA operates through a system that involves central and local government officials, project managers, overseas branches, a foreign investment ombudsman, and a business incubation center for foreign companies.
Korea provides a high-technology market in the middle of Asia with mid-level labor costs. It is already a manufacturing powerhouse with steel, shipbuilding, auto, construction, and IT industries that rank among the world's best. Korea's economy is resilient and fast-growing, and its people well-educated, talented and innovative. Korea has signed free-trade agreements with two-thirds of the world's economies and the Korean government is active in inducing foreign direct investment (FDI) and supporting foreign investors through free economic zones, FDI incentives, and the national investment promotion agency, Invest Korea.
Tuesday, February 28, 2012
Direct Investment in Korea: How to Land Softly and Successfully

with
Hong-Chul "Hank" Ahn
Commissioner of Invest KOREA
and
So Hee Kim
International Relations Officer
Saemangeum Development Planning Executive Office
Prime Minister's Office