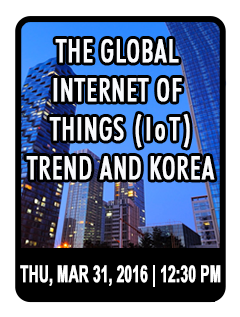 SparkLabs Co-Founder & Partner Bernard Moon introduces a new Internet of Things (IoT) accelerator planned for launch in Songdo and Seoul which provide opportunities for entrepreneurs to take the lead of the global IoT trend. Ilan Abehassera, founder and CEO at Insensi and a SparkLabs portfolio company, speaks to the ins and outs of managing a hardware startup company.


The Global Internet of Things Trend and Korea

with

Bernard Moon
Co-founder & Partner at SparkLabs

Ilan Abehassera
Founder and CEO, Insensi
Moderated by Nikita Desai, Director, Policy and Corporate Programs
$10 Members, $20 Guests
12:00 PM | Arrivals & Reception
12:30 PM | Discussion
YPN and Explorer Level Members Register HERE for free admission.

If you have any questions, please contact Nikita Desai or (212) 759-7525, ext. 355.
---
Bernard Moon is a Co-founder & Partner at SparkLabs Global Ventures. He is also a Co-founder & Partner at SparkLabs, a startup accelerator in Korea. Previously, he was Co-founder & CEO of Vidquik, a web conferencing & sales solutions platform. Bernard was a Managing Director at the Lunsford Group, which is a private investment firm with holdings in real estate, healthcare and other industries. Bernard was Co-founder & VP of Business Development of GoingOn Networks, a social media platform for companies, and also led their product development where BusinessWeek recognized them in their "Best of the Web" list. Previously, Bernard was a Director at iRG, a leading boutique investment bank in Asia, where he focused on TMT companies.
Bernard co-founded a couple of other startups, raised over $50 million in venture capital, and enjoys helping other entrepreneurs as much as possible: He serves as a mentor to MuckerLab, a startup accelerator in LA, and SixThirty, a fintech accelerator in St. Louis.. He is a frequent guest writer to various technology journals, such as VentureBeat, Mashable, TechCrunch, and ReadWrite, and has been published in The New York Times, The Washington Post, and other publications.
Bernard has spoke and lectured about startups and entrepreneurship at Stanford University, Global Entrepreneurship Congress, American Chamber of Commerce in Korea and other organizations. He was selected as one of 8 global judges for EDF's innovation contest (EDF is the world's biggest electricity producer based in France)
He completed a post-graduate fellowship with the Coro Foundation. He received his MPA in Telecom and New Media Policy from Columbia University and a BA in English and Psychology from the University of Wisconsin-Madison.
---
Ilan Abehassera is a second time Entrepreneur based in NYC since 2004. He is now Founder and CEO at Insensi, makers of ILY, a new kind of communication device and platform for Families : www.ily.co . Ilan's first company, Producteev, one of the leading Task Management platforms for teams, had 2,500 paying companies when it got acquired by Jive Software (Nasdaq listed company) in November 2012, which is when Ilan and his family moved to Palo Alto, where he stayed until the summer of 2014, before moving back to NYC to start Insensi. Ilan is also an angel investor in great companies such as Sunrise (acquired by Microsoft), Wit.ai (acquired by Facebook), Algolia, Checkr.io, OKPanda, Sabi, Campaign, Circa and 15 more. Ilan is a dad of 3, and lives with his wife in Manhattan.

---
Nikita Desai (Moderator) is the Director of Policy and Corporate Programs at The Korea Society. While at TKS, she has curated a series of corporate programs highlighting Korean leadership in entrepreneurship and innovation. She was previously a Small-Medium Enterprise Consultant for a project administered in South Africa for women entrepreneurs, funded by the Government of Spain and Femmes Africa Solidarité (FAS). Ms. Desai has consulted for the World Bank on their Global Partnership for Social Accountability for three years. Ms. Desai holds a MBA earned through the Fulbright Scholar program from IE Business School in Spain as well as a MA in International Policy Studies with a focus on Gender and Development from Monterey Institute of International Studies. She served as a Peace Corps volunteer in Mongolia from 2003-2005 and speaks Mongolian, Gujarati, Hindi, and Spanish.
---