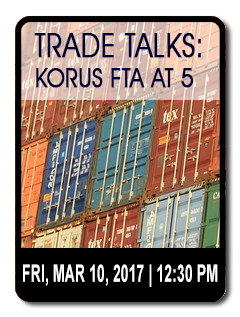 Former ROK Minister for Trade Jong-Hoon Kim, Vice President and Managing Director of the Asia Society Policy Institute and former Assistant U.S. Trade Representative Wendy Cutler, and US Chamber of Commerce SVP Tami Overby assess the performance and progress of the Korea-US Free Trade Agreement five years after implementation in a discussion moderated by the Korea Society's president, Tom Byrne.


Trade Talks: KORUS FTA at 5

with

Wendy Cutler
Vice President and Managing Director (Washington, D.C.), Asia Society Policy Institute
Jong-Hoon Kim
Former ROK Minister for Trade
Tami Overby
Senior Vice President for Asia, U.S. Chamber of Commerce
Tickets: $15 for Members and Students with a valid I.D., $25 for Guests
Korea Society Fellow, Patron, and Corporate Members,
please register HERE for complimentary tickets.
12:00 PM | Registration
12:30 PM | Discussion
Join our membership program here!
If you have any questions, please contact Nikita Desai or (212) 759-7525, ext. 355.

---
Wendy Cutler joined the Asia Society Policy Institute (ASPI) as Vice President and Managing Director of the Washington D.C. Office in November 2015. In these roles, she focuses on building ASPI's presence in Washington — strengthening its outreach as a think/do tank—and on leading initiatives that address challenges related to trade and women's empowerment in Asia. She joins ASPI following an illustrious career of nearly three decades as a diplomat and negotiator in the Office of the U.S. Trade Representative (USTR). Most recently she served as Acting Deputy U.S. Trade Representative, working on a range of U.S. trade negotiations and initiatives in the Asia-Pacific region. In that capacity she was responsible for the Trans-Pacific Partnership (TPP) agreement, including the bilateral negotiations with Japan.

Ms. Cutler's other responsibilities with USTR included U.S.-China trade relations, the Asia Pacific Economic Cooperation (APEC) Forum, and the U.S.-India Trade Policy Forum. She was the Chief U.S. Negotiator for the U.S.-Korea (KORUS) Free Trade Agreement and negotiated a wide range of bilateral agreements with Japan on such issues as telecommunications, autos, and semiconductors. She has extensive multilateral trade experience as the U.S. negotiator for the WTO Financial Services Agreement and several Uruguay Round Agreements. Prior to joining USTR, Ms. Cutler worked on trade issues at the Commerce Department.

Ms. Cutler received her master's degree from Georgetown University's School of Foreign Service and her bachelor's degree from the George Washington University. She is married and has one son.
---
Jong-Hoon Kim was a career diplomat with 38 years of experience in foreign service and trade issues, with key postings in Washington D.C., San Francisco, Geneva, Canada and France among other locales. He led the Korea-US FTA as the chief negotiator, and from August 2007 through December 2011 worked extensively on Korea's bilateral and multilateral trade - related issues as the longest serving Trade Minister of Korea so far. During his tenure he concluded and put in place FTAs with India, the EU, Peru and the US.. In addition, Mr. Kim`s dedicated services as the SOM (Senior Officials` Meeting) chair were instrumental for the success of APEC 2005 of Seoul.

In April 2012, Mr. Kim was elected in the general elections as a candidate of then ruling party and served for 4 years as a member of the National Assembly.

Mr. Kim earned his business administration degree from Yonsei University in 1978. He is married and has one son. His hobbies include paragliding, kite boarding and off-road motorcycling.
---
Tami Overby, senior vice president for Asia at the U.S. Chamber of Commerce, leads Washington's premier international policy team that is devoted to helping American companies compete and prosper in Asia's dynamic marketplace.

Overby is responsible for developing, promoting, and executing programs and policies relating to U.S. trade and investment in Asia. She works closely with Chamber member companies, business coalitions, AmChams, government leaders, and business executives to achieve their business objectives in this very important part of the world. Overby and her team led the efforts for the U.S.-Korea Free Trade Agreement ratification. She works with a talented senior-level group of professionals including Jeremie Waterman, executive director for China and senior policy adviser for Asia; Jim Fatheree, senior director for Japan and Korea; Esperanza Jelalian, director for South Asia; and John Goyer, senior director for Southeast Asia.

Before joining the Chamber as vice president for Asia in 2009, Overby lived and worked in South Korea for 21 years. There she worked with AIG and William M. Mercer Ltd. and spent the last 14 years leading AmCham Korea, aiming to improve the business environment for member companies in Korea. During this time, she was actively engaged in ensuring that Korea entered America's Visa Waiver Program. Overby raised the profile of AmCham Korea to make it the largest, most influential foreign business group in Korea.

In recognition of her efforts for promoting mutually cooperative economic relations between South Korea and the United States, Overby was awarded the Korean Order of Industrial Service Merit, Silver Tower by President Lee Myung-Bak in June 2009. She was previously recognized with a Letter of Citation (Bronze Tower) from both President Roh Moo-Hyun and President Kim Dae-Jung. In April 2007, Overby was awarded an Honorary Citizenship of Seoul from Mayor Oh Se-Hoon.

In Korea, Overby was active in charitable programs like the Pearl S. Buck Foundation, the Seoul Children's Welfare Committee, and AmCham's Partnership for the Future Foundation, which raised more than $8 million and helped more than 1,400 Korean university students obtain full scholarships.
---
| | |
| --- | --- |
| | Thomas J. Byrne (Moderator) joined The Korea Society as its President in August of 2015. He comes to the Society from Moody's Investor Services, where he was Senior Vice President, Regional Manager, Spokesperson, and Director of Analysis for the Sovereign Risk Group in the Asia-Pacific and Middle East regions. Before moving to Moody's in 1996, he was the Senior Economist of the Asia Department at the Institute of International Finance in Washington DC. Tom has an MA degree in International Relations with an emphasis on economics from The Johns Hopkins School of Advanced International Studies. Before his graduate work, he served in South Korea for three years as a US Peace Corps volunteer. President Byrne teaches as an adjunct professor, at Columbia University's School of International and Public Affairs in New York City and at Georgetown University's Graduate School of Foreign Service in Washington, D.C. |
---
Of Interest:
US-Korea pact makes a strong argument for global trade deals