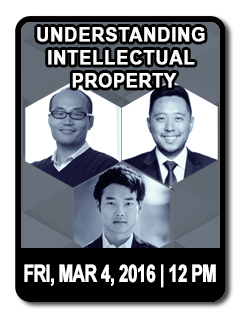 Join us for a corporate luncheon event with Seung Bak, Co-founder & CEO of Dramafever, David Kim, Attorney at The Hollywood Lawyers, and Brian Lee, Partner at SKIG and former GM at Maker Studios. This joint Kotra NY-IP Desk-Korea Society event offers aspiring and existing entrepreneurs key insights on starting and exiting an entertainment-media startup and advice on navigating thorny intellectual property issues.


Understanding Intellectual Property for Media Startups

with

Seung Bak
CEO and co-founder of DramaFever
David Yung Ho Kim
Lead Entertainment Attorney at The Hollywood Lawyer
Brian Lee
Partner at SKIG
12:00 - 12:30 PM | Registration & Luncheon
12:30 - 1:15 PM | Discussion
1:15 - 1:45 PM | Q & A
1:45 - 2:00 PM | Networking
If you have any questions, please contact Nikita Desai or (212) 759-7525, ext. 355.
---
Seung Bak is the CEO and co-founder of DramaFever, the leading online destination for international television shows and movies. Seung led the company since its inception in 2009, including a sale to SoftBank in 2014 at greater than 10x invested capital. Prior to founding DramaFever, Seung was Vice President and Chief Marketing Officer for Capital IQ, a leading provider of information services to the global financial community. Seung served a variety of marketing, sales, strategy, finance, and operational roles in helping Capital IQ grow from a seed stage startup to a $400+ million revenue business. Previously, he was an investment banker at CapitalKey Advisors, the precursor to Capital IQ, where he advised venture-stage and middle-market companies. Seung is a member of the Young Presidents' Organization NYC Chapter. Seung earned a BA in Economics from the University of Rochester.

---
David Yung Ho Kim is the Lead Entertainment Attorney at The Hollywood Lawyer in Los Angeles, and practices in the areas of film, television, music, new media, licensing and talent representation. After graduating from the University of California, Berkeley as a Regents' & Chancellor's Scholar, with cum laude honors in History, he then moved to study law at the Benjamin N. Cardozo School of Law (Yeshiva), the nation's premiere Jewish institution with one of the top-ranked entertainment and IP law programs in the nation, where he served as the school's first non-Jewish student body president. With an eclectic background of employment and experiences in litigation, copyright law and in-house counsel work as an entertainment attorney for past employers such as the Los Angeles County District Attorney's Office, CJ Entertainment America, and East West Artists, David now spends most of his time negotiating deals, drafting contracts and advising companies and talent in areas related to media and entertainment. When he's not working, David loves meditating, doing yoga, playing the piano and loving on people, be it family, friends, or strangers.
---
Brian Lee is a Partner at SKIG, a NYC-based accelerator focused on helping early- stage companies scale audience and revenue. Prior to SKIG, Brian was General Manager and Vice President at Maker Studios, the worlds premiere multi-channel network. At Maker Studios, Brian led the Music and Merchandise divisions from conception all the way through to its eventual $500M acquisition to Disney in 2014. As Head of Music, Brian oversaw all of its departments including, network partnerships, original programming and audience development. His success as GM was rooted in his ability to converge traditional music industry stars such as Snoop Dogg, Will.i.am , and Far East Movement with up and coming YouTube talent such as Christina Grimmie, Mike Tompkins, and the Epic Rap Battles of History. Prior to his role at Maker Studios, he was founder and CEO of Knocksteady, a digital content and social merchandising company based in Los Angeles. Knocksteady served as the precursor to both Maker Music and Shop.Maker.Tv and was acquired by Maker Studios in 2012. Brian earned a Bachelors of Arts in both Political Science and International Relations from the University of California Irvine.
---
Of Interest: