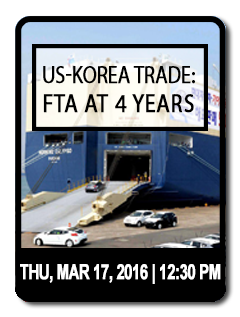 Now in force for four years, the Korea-US Free Trade Agreement (KORUS FTA) has seen some observers question the extent of trade benefits and economic gains for the US and Korean economies. Michael Beeman of the US-Korea Business Council provides insights into the evolution of the KORUS FTA, challenges, opportunities and new directions, in conversation with Korea Society President Tom Byrne.


US-Korea Trade: FTA at 4 years

with

Michael Beeman
Senior Advisor to the U.S.-Korea Business Council
Moderated by Thomas Byrne, President of The Korea Society
$10 Members, $20 Guests, $5 Students
12:00 PM | Arrivals & Reception
12:30 PM | Discussion
YPN and Explorer Level Members Register HERE for free admission.

If you have any questions, please contact Nikita Desai or (212) 759-7525, ext. 355.
---
Collaborating Organization

---
Michael Beeman is currently Senior Advisor to the U.S.-Korea Business Council. From 2013-2014, he was responsible for trade and economic issues with Korea while serving as Acting Assistant U.S. Trade Representative for Japan, Korea and APEC Affairs at the Office of the U.S. Trade Representative (USTR). He joined USTR in 2004, where he worked on Japan and other Asia-region trade issues for over a decade. He completed his doctorate in politics in 1998 at the University of Oxford, St. Antony's College, and has been a research fellow at Harvard University and the University of Tokyo.

---
Thomas J. Byrne (Moderator) joined The Korea Society as its President in August of 2015. He came to the Society from Moody's Investor Services, where he was Regional Manager, Spokesperson, and Director of Analysis for the Sovereign Risk Group in the Asia-Pacific and Middle East regions. Before moving to Moody's in 1996, he was the Senior Economist of the Asia Department at the Institute of International Finance in Washington DC. Mr. Byrne has an MA degree in International Relations with an emphasis on economics from The Johns Hopkins School of Advanced International Studies. Before his graduate work, he served in South Korea for three years as a US Peace Corps volunteer.
---