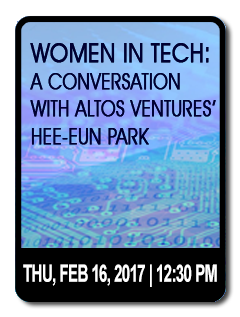 Despite women blazing the trail at tech companies like Naver and Kakao, a deep divide remains among men and women at the top. Less than ten percent of startup founders are women in Korea, while a quarter of startups are run by women in Silicon Valley. Join us in conversation with principal investor Hee-Eun Park of Altos Ventures. She chats entrepreneurship, gender, investing in startups and what it is like to lead in Silicon Valley with Korea Society director Nikita Desai.

Women in Tech:
A Conversation with Altos Ventures' Hee-Eun Park

with

Hee-Eun Park
Principal, Altos Ventures
Tickets: $15 for Members and Students with a valid I.D., $25 for Guests
12:00 PM | Registration
12:30 PM | Discussion
Join our membership program here!
If you have any questions, please contact Nikita Desai or (212) 759-7525, ext. 355.
Hee-Eun Park("Baki") scored with the mobile dating service IUM she founded in Korea in 2010 and led within three years to a market-leading position of more than 1 million subscribers. Her encore: join the firm that backed her startup, Altos ventures, and it relatively large $170 million Korean fund. A star in the Seoul startup scene, she has invested in 21 Korean mobile and consumer tech companies. Starting her career as a strategy manager at online gaming publisher and developer NCsoft, Park gained recognition winning first prize at two national venture capital competition. She was selected by Forbes as the 30th person under 30 in 2016 and received a BS in Communications from the Seoul Nat'l University.

---