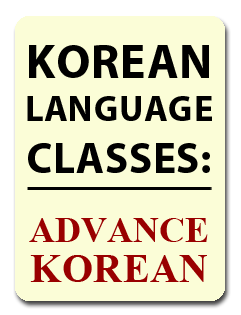 This class aims to promote the active use of Korean in formal speaking as well as reading and writing tasks relating to work, school, problem solving, and public life. Upon completion of this course, students are expected to acquire and use more vocabulary, expressions, and variety of sentence patterns. Students will be more confident in reading published materials in Korean and writing short essays to express personal views on contemporary issues.

(Prerequisites: Intermediate III or equivalent ability demonstrated on placement exam.)

Textbook: Fun! Fun! Korean 3
Korean Language and Culture Center, Korea University
Published by Kyobo

---
Advanced Korean

Mondays, 6:15 - 8:00 PM (September 18 - December 11)
Begins Monday, September 18, 2017

Instructor: Beom Lee

No classes will be held on the week of Thanksgiving.
If you have any questions, please contact Jahee Yu or (212) 759-7525, ext. 301.
---
Beom Lee holds his M.A. in Computing and Education and Ed. M in Instructional Technology and Media from Teachers College at Columbia University. Lee specializes in applying computer-based learning materials to Korean-language instruction. Lee has taught Elementary, Intermediate, Advanced and Modern (fifth-year) Korean at Columbia University since 2005. Lee also has helped local Korean schools in the Korean-American community. His research interests include computer-based language instruction and language learning in cognitive science.
---