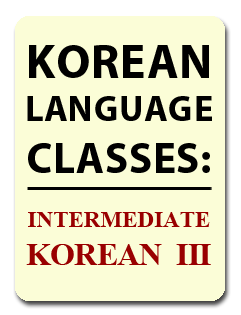 Intermediate Korean III aims to promote the active use of Korean at work, museum, and travel-agency settings. As a continuation of Intermediate II, this course adds approximately 36 advanced grammar forms and 240 new expressions related to dreams, regrets, work, traditional culture, and trips. Upon completion of the course, students will be well-equipped for formal and informal speaking and reading tasks. In particular, each student will be trained to produce various written assignments, such as a notice of a lost item, an article about a moment of regret, an essay, and an introduction to a city.
Textbook: Active Korean 4 (Required)
Seoul National University Language Institute
Published by Munjin Media

---
Intermediate Korean III

Tuesdays, 8 - 9:45 PM (January 24 - April 11)
Begins Tuesday, January 24, 2017

Instructor: Sunhee Song
If you have any questions, please contact Jahee Yu or (212) 759-7525, ext. 301.
---
Sunhee Song received her Ed.D. in Teaching English to Speakers of Other Languages (TESOL) from Teachers College at Columbia University along with her Ed. M. She has been teaching in the Department of East Asian Languages and Cultures at Columbia University since 2010, focusing on Elementary and Intermediate Korean language teaching and learning. Her research and teaching interests include second and foreign language acquisition, language pedagogy, and interactional approaches to language teaching.
---