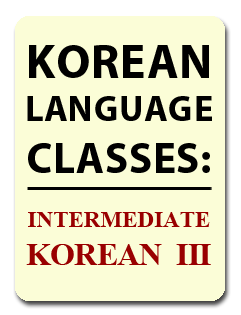 Intermediate Korean III aims to promote the active use of Korean at work, museum, and travel-agency settings. As a continuation of Intermediate II, this course adds approximately 36 advanced grammar forms and 240 new expressions related to dreams, regrets, work, traditional culture, and trips. Upon completion of the course, students will be well-equipped for formal and informal speaking and reading tasks. In particular, each student will be trained to produce various written assignments, such as a notice of a lost item, an article about a moment of regret, an essay, and an introduction to a city.
Textbook: Active Korean 4 (Required)
Seoul National University Language Institute
Published by Munjin Media

Please be advised that The Korea Society is moving to 350 Madison Ave. (between 44th & 45th) in July. Therefore classes will be held at two locations during summer semester. From May 29-June 29, classes will take place at our current address. From July 1-August 16th, classes will be held at our new address. This schedule is subject to change.
---
Intermediate Korean III

Mondays, 6:15 - 8 PM (June 1 - Aug 14)
Begins Thursday, June 1, 2017

*** Due to Memorial Day, First class will be held on Thursday, June 1. ****

Instructor: Seunghee Back

If you have any questions, please contact Jahee Yu or (212) 759-7525, ext. 301.
---
Seunghee Back received her B.A. in Korean Language Education and M.A. and Ph.D. in Korean Language and Literature from Sangmyung University in Seoul, Korea. Dr. Back has taught Korean language courses at all levels from Beginner to Advanced at Sangmyung University since 2006. She was a core member in developing Korean Language textbooks for the Korea Institute for Curriculum and Evaluation, and has contributed to the publication of several textbooks. Back was a co-researcher for the Korean curriculum and material development research report that helped overseas Koreans understand how to better teach Korean. Most recently she taught Korean language and culture at advanced levels for Manhattan Korean School for the past 3 years.
---