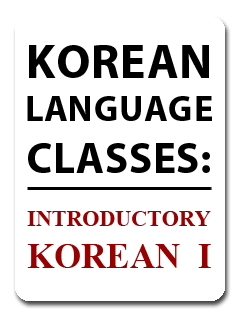 This class introduces students to the fundamentals of Korean language. It covers the Korean alphabet (han'gul), basic grammar, and the vocabulary necessary for basic conversation, reading, and writing. Students will practice simple communication skills such as greetings, ordering food, and asking basic questions.

(No prerequisite or prior Korean-language experience required.)

Textbook: Active Korean 1 (w/CD)
Seoul National University Language Institute
Published by Munjin Media

Please be advised that The Korea Society is moving to 350 Madison Ave. (between 44th & 45th) in July. Therefore classes will be held at two locations during summer semester. From May 29-June 29, classes will take place at our current address. From July 1-August 16th, classes will be held at our new address. This schedule is subject to change.
---
Section A (FULL)

Mondays, 6:15 - 8 PM (June 1 - Aug 14)
Begins Thursday, June 1*, 2017

***Due to Memorial Day, First class will be held on Thursday, June 1.****



Instructor: Yongjun Choi
---
Section B

Wednesdays, 8 - 9:45 PM (May 31 - Aug 16)
Begins Wednesday, May 31, 2017



Instructor: Yongjun Choi
If you have any questions, please contact Jahee Yu or (212) 759-7525, ext. 301.
---
Yongjun Choi received his M.A. in comparative linguistics in Korean and Japanese languages from Tokyo University of Foreign Studies. He lived in Japan from 2001-2011 and taught Korean language at private language schools in Kyoto, Osaka, and Tokyo. He is currently an adjunct Korean/Japanese language instructor at LaGuardia Community College, the Fashion Institute of Technology, and New York University. He also works at Columbia University as a teaching associate. He has taught a wide range of Korean/Japanese levels, ranging from beginner to early-advanced.