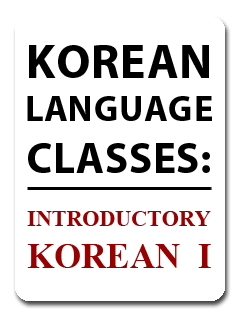 This class introduces students to the fundamentals of Korean language. It covers the Korean alphabet (han'gul), basic grammar, and the vocabulary necessary for basic conversation, reading, and writing. Students will practice simple communication skills such as greetings, ordering food, and asking basic questions.

(No prerequisite or prior Korean-language experience required.)

Textbook: Active Korean 1 (w/CD)
Seoul National University Language Institute
Published by Munjin Media

---
Section A (FULL CAPACITY)

Wednesdays, 8 - 9:45 PM (January 25 - April 12)
Begins Wednesday, January 25, 2017


Instructor: Jeehyun Kim
---
Section B (FULL CAPACITY)

Mondays, 6:30 - 8:15 PM (January 23 - April 10)
Begins Monday, January 23, 2017



Instructor: Cheunmi Kim
If you have any questions, please contact Jahee Yu or (212) 759-7525, ext. 301.
---
Jeehyun Kim received her B.A. in Speech Sciences from British Columbia University in Canada and her M.A. in Cognitive Science, specializing in non-native speech perception, from Seoul National University in Korea. Her interests in foreign language acquisition and Korean language pedagogy led her to earn a Korean-language teaching certificate after completing the Korean Language Teachers Training Program at the Language Education Institute of Seoul National University in Korea. Afterwards, she earned a second M.A. in Applied Linguistics from Teachers College at Columbia University, and has been teaching Korean at New York University.
---
Cheunmi Kim holds bachelor's degree in Korean Language Education and a masters' degree in Korean Language and Literature from Hanguk University of Foreign Studies in Korea. Kim's study focus is "Research of Korean Negative as a Foreign Language." She is also interested in grammar research. Kim taught Korean language at Yonsei University in South Korea from 1992 to 2005. And she has been teaching Korean at the Korean Language Center of New York in Manhattan since 2010. She currently instructs Korean at the Department of East Asian Studies at New York University.