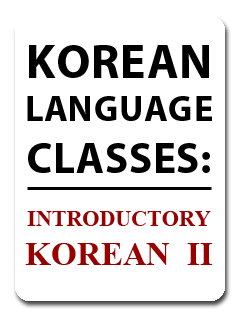 This class builds additional basic conversation skills and vocabulary. It covers the grammar and vocabulary necessary for everyday conversation, such as expressing obligation/necessity and providing excuses/reasons as well as honorific expressions.

(Prerequisite: Introductory Korean I or equivalent ability demonstrated on the placement exam.)

Textbook: Active Korean 2 (w/CD) - required, Active Korean 1 (w/CD)- optional
Seoul National University Language Institute
Published by Munjin Media
---
Introductory Korean II

Wednesdays, 6:15 - 8 PM (September 20 - December 13)
Begins Wednesday, September 20, 2017

Instructor: Jeehyun Kim
No classes will be held the week of Thanksgiving.
If you have any questions, please contact Jahee Yu or (212) 759-7525, ext. 301.
---
Jeehyun Kim received her B.A. in Speech Sciences from University of British Columbia in Canada and her M.A. in Cognitive Science, specializing in non-native speech perception, from Seoul National University in Korea. Her interests in foreign language acquisition and Korean language pedagogy led her to earn a Korean-language teaching certificate after completing the Korean Language Teachers Training Program at the Language Education Institute of Seoul National University in Korea. Afterwards, she earned a second M.A. in Applied Linguistics from Teachers College at Columbia University, and has been teaching Introductory Korean at New York University.
---