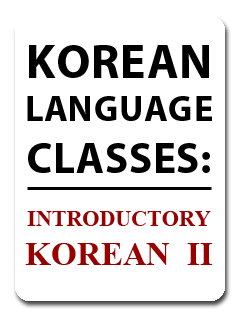 This class builds additional basic conversation skills and vocabulary. It covers the grammar and vocabulary necessary for everyday conversation, such as expressing obligation/necessity and providing excuses/reasons as well as honorific expressions.

(Prerequisite: Introductory Korean I or equivalent ability demonstrated on the placement exam.)

Textbook: Active Korean 2 (w/CD) - required, Active Korean 1 (w/CD)- optional
Seoul National University Language Institute
Published by Munjin Media

Please be advised that The Korea Society is moving to 350 Madison Ave. (between 44th & 45th) in July. Therefore classes will be held at two locations during summer semester. From May 29-June 29, classes will take place at our current address. From July 1-August 16th, classes will be held at our new address. This schedule is subject to change.
---
Introductory Korean II

Mondays, 8 - 9:45 PM (June 1 - Aug 14)
Begins Thursday, June 1, 2017

***Due to Memorial Day, First class will be held on Thursday, June 1.****

Instructor: Yongjun Choi
If you have any questions, please contact Jahee Yu or (212) 759-7525, ext. 301.
---
Yongjun Choi received his M.A. in comparative linguistics in Korean and Japanese languages from Tokyo University of Foreign Studies. He lived in Japan from 2001-2011 and taught Korean language at private language schools in Kyoto, Osaka, and Tokyo. He is currently an adjunct Korean/Japanese language instructor at LaGuardia Community College, the Fashion Institute of Technology, and New York University. He also works at Columbia University as a teaching associate. He has taught a wide range of Korean/Japanese levels, ranging from beginner to early-advanced.
---