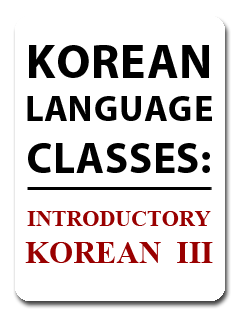 This class is designed to help students further develop basic Korean-language skills. It covers the grammar and vocabulary necessary for everyday conversation, such as asking permission, giving advice, and expressing desires, as well as a limited number of irregular verbs/adjectives. Upon completion of the class, students should be able to conduct elementary conversations, comprehend basic texts, and write simple compositions in Korean.

Textbook: Active Korean 2 (w/CD)
Seoul National University Language Institute
Published by Munjin Media
---
Introductory Korean III

Mondays, 8 - 9:45 PM (September 18 - December 11)
Begins Monday, September 18, 2017

Instructor: Yongjun Choi

No classes will be held on the week of Thanksgiving.
If you have any questions, please contact Jahee Yu or (212) 759-7525, ext. 301.
---
Yongjun Choi received his M.A. in comparative linguistics in Korean and Japanese languages from Tokyo University of Foreign Studies. He lived in Japan from 2001-2011 and taught Korean language at private language schools in Kyoto, Osaka, and Tokyo. He is currently an adjunct Korean/Japanese language instructor at LaGuardia Community College, the Fashion Institute of Technology, and New York University. He also works at Columbia University as a teaching associate. He has taught a wide range of Korean/Japanese levels, ranging from beginner to early-advanced.
---