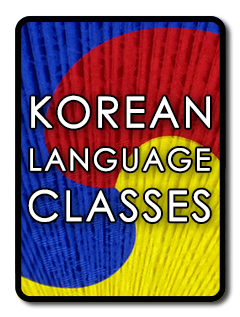 Registration is now open for our Fall 2017 Korean language classes. The Fall Session offers "Introductory" to "Advanced Reading and Discussion" classes that run from September 18 - December 13, 2017.
The Korea Society's Korean language classes are a great way to learn Korean in a small-class setting from university affiliated and native-speaking instructors.
Fall Session classes meet once a week for 12 weeks for a total of 21 classroom hours. First-time students who wish to take Introductory II or higher-level classes must take a placement test.
Below you will find more information about the classes as well as online registration.
Please contact Jahee Yu or (212) 759-7525, ext. 301 with any questions.
Tuition: $430 (including textbook). During the semester, students are welcome to join most Korea Society programs at a discounted ticket price.
Note: Due to strong demand, class space will be allotted on a first-come, first-served basis. Please complete the application below. If accepted, you will receive a confirmation email from The Korea Society.
Refund and Cancellation Policy:
-Tuition is non-refundable after 12 PM on September 17, 2017 (one business day before classes begin).
-The cancellation fee and textbooks are also non-refundable.
-Please note that cancellations are accepted by phone or in person only. We do not accept cancellation by email.
-The Korea Society will not provide make-up classes or issue refunds for classes missed as a result of an illness, emergency, or other events beyond The Korea Society's control.
-The Korea Society also reserves the right to cancel any course if sufficient enrollment is not obtained. In such cases, those students already enrolled will receive full refunds.

---
---