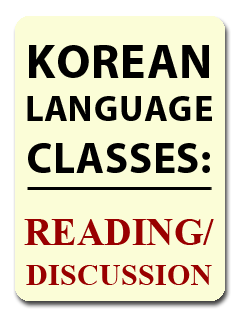 This new class promotes the active use of formal Korean, as well as reading and writing tasks related to work, school, problem solving, and public life. Lessons will also develop skills for using Korean in professional discourse in business, arts, humanities, and social and biological sciences. Upon completion of the course, students will be able to understand and appropriately use vocabulary, expressions, and a variety of sentence patterns. Students will feel more confident reading published materials in Korean, writing short essays expressing personal views on contemporary issues, and discussing current events in the Korean media.

Textbook: Fun! Fun! Korean 4
Korean Language and Culture Center, KOREA UNIVERSITY and Selected Reading Materials.
Published by Kyobo
Please be advised that The Korea Society is moving to 350 Madison Ave. (between 44th & 45th) in July . Therefore classes will be held at two locations during summer semester. From May 29-June 29, classes will take place at our current address. From July 1-August 16th, classes will be held at our new address. This schedule is subject to change.
---
Advanced Reading & Discussion

Tuesdays, 8 - 9:45 PM (May 30 - August 15)
Begins Tuesday, May 30, 2017

Instructor: Beom Lee

If you have any questions, please contact Jahee Yu or (212) 759-7525, ext. 301.
---
Beom Lee holds his M.A. in Computing and Education and Ed. M in Instructional Technology and Media from Teachers College at Columbia University. Lee specializes in applying computer-based learning materials to Korean-language instruction. Lee has taught Elementary, Intermediate, Advanced and Modern (fifth-year) Korean at Columbia University since 2005. Lee also has helped local Korean schools in the Korean-American community. His research interests include computer-based language instruction and language learning in cognitive science.
---