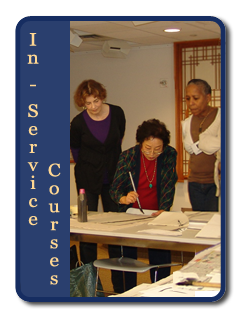 Each summer, a group of New York City teachers participate in a six-day Korea workshop. These brief sessions serve to inspire teachers with Korea-focused lesson plan ideas and implementation strategies. This 36-hour course is offered in conjunction with the New York City Department of Education's After School Professional Development Program. Those who successfully complete the course will get 3 credits from NYC Department of Education.
Past topics have ranged from Korea and the Silk Road, Getting to Know Korea, Korea for Beginners, Building an Ideal Society, Art and Culture of Korea. In addition to providing content rich material, the participants are also educated on proper methodology, ensuring effective integration into any curriculum.
In-service courses are made possible by support from the Freeman Foundation.
---