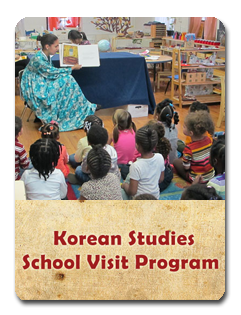 Since 1997, the Korean Studies department has engaged children in various presentations and Korean folk-art activities through visits to NYC preschool, elementary, middle, and high schools. These programs are designed to help students make social, cultural, and historical connections. School visits are offered at no cost to the school. Please see below for the various types of school visits offered by The Korea Society. Visits are subject to teaching artist availability and funding. For more information, please contact Luz Lanzot.
To request a school visit please fill out this form.
---
Brush Painting & Calligraphy, 40-50 minutes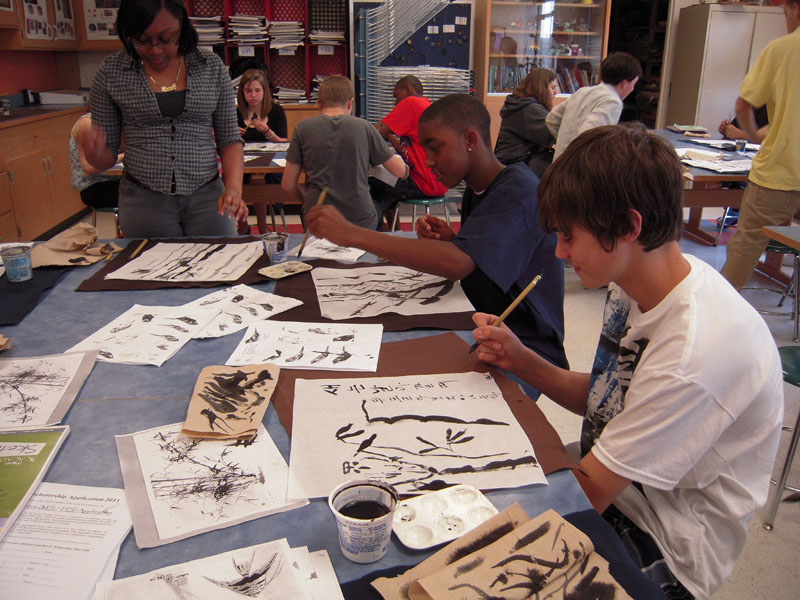 Introduce students to the ways Koreans use art to convey ideas. Students participate in Korean ways of depicting nature using traditional brushes, ink, and rice paper. Subject matter includes Korean calligraphy, landscape, and commonly depicted flora and fauna. Students also make comparisons to Western approaches of painting and calligraphy in terms of methods, materials, and content. This activity is well suited to elementary, middle, and high school students in art classrooms.
---
Munjado (Korean Pictorial Ideograph) Painting Workshop, 50 minutes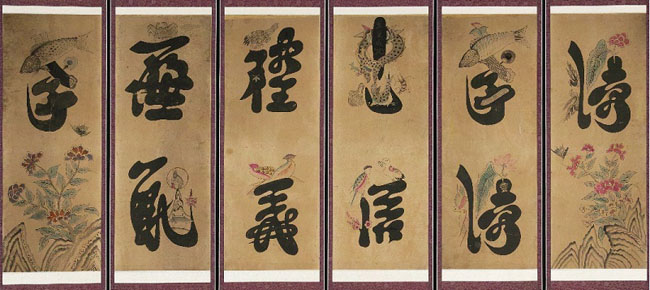 Illustrate the influence of Confucianism on Korean art. Munjado are Korean pictorial ideographs, a combination of a single hanja or Chinese character representing a Confucian virtue, and a symbol from nature, such as an animal or plant. These ideographs were often painted on silk screens or panels and served as reminders of the principles by which one should live. Confucian virtues are considered a cornerstone of Korean culture and this workshop would allow students to participate in a hands-on activity in order to understand this marriage of art and philosophy. Students are provided with paper, brushes, and paint, as well as a presentation of examples of Munjado. This activity is best for middle and high school students and could be used both in art classrooms and in Social Studies to discuss religion/philosophy.
---
Once Upon A Time In Korea: Storytelling & Crafts, 40-50 minutes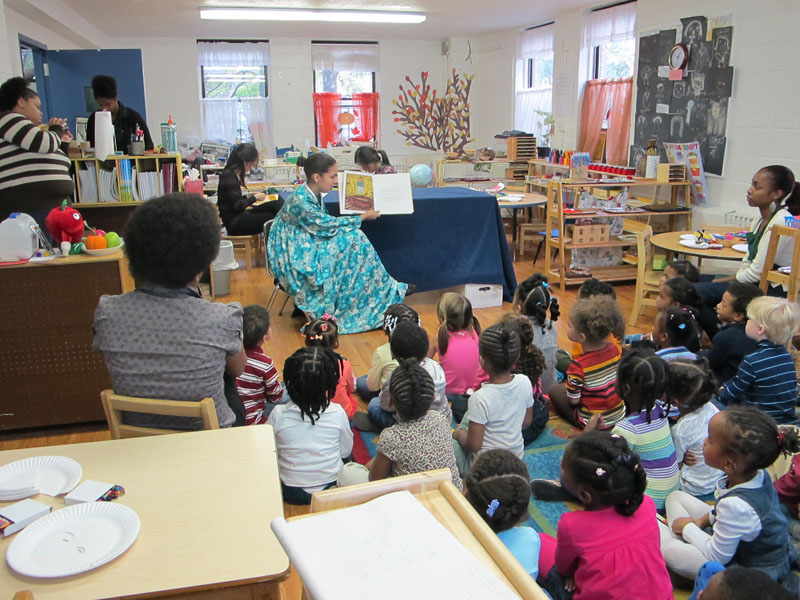 After reading a Korean folk tale, depicted using puppets, children can then create their own animal puppet and mask. Students are provided with construction paper, crayons, feathers, googly eyes, and other craft supplies to design a unique puppet or mask. This activity works best with preschool and elementary students.
---
Pojagi (Korean Wrapping Cloth) Workshop, Two 2-hr segments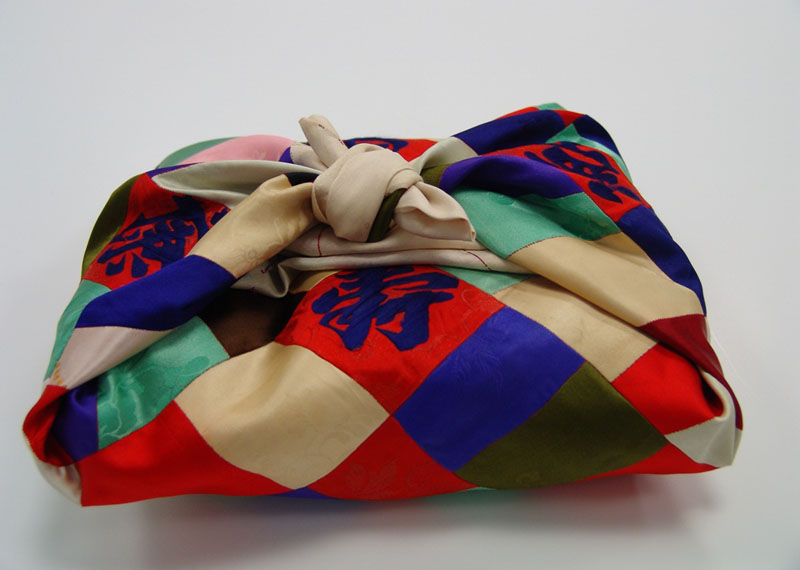 Pojagi, with their distinctive geometric patchwork design, often combining vivid colors, have become one of the most widely recognized and appreciated of all traditional Korean textile arts. While often used for wrapping gifts, pojagialso were commonly employed in everyday life for carrying, covering, and storing objects. Due to these multiple uses, pojagi were one of the most widespread items in Korean households of all social classes. Using silk fabric, thread, and needles, the workshop allows students to learn about this beautiful aspect of Korean culture and create their own unique pojagi. Middle and high school students would be best suited for this workshop; however, this activity can be modified for younger students using construction paper and glue. Due to the complex nature of patchwork, this workshop will be conducted afterschool in 2-hour-long segments.
---
Traditional Dance Workshop, 2hrs

Korean traditional dance dates back thousands of years, at least as far as the Gojoseon Kingdom around 2000 BCE. These dances are ingrained with religious and social meaning. Appropriate for all ages, this workshop can include the following folk dances: Bong San Tal Chum (Mask Dance), Kanggangsullae (Group Circle Dance), Fan Dance, Basic Salpuri (Shaman Ritual Dance), Sogo Chum (Small Drum Dance) and Beompae (Buddhist Ceremonial Dance).
---