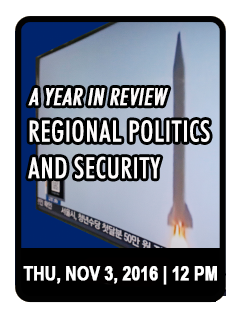 Pacific Forum CSIS President Ralph Cossa reflects on 2016 developments impacting Northeast Asia, from the step-up in tensions on and around the Korean Peninsula to the South China Sea, in conversation with Stephen Noerper.

A Year in Review
Regional Politics and Security


Ralph Cossa
President, Pacific Forum CSIS in Honolulu
Senior Editor of the Forum's quarterly electronic journal, Comparative Connections
Tickets: $10 for Members, $20 for Guests
Explorer Level and YPN Members Register Here

12:00 PM | Arrivals & Reception
12:30 PM | Discussion
If you have any questions, please contact Nikita Desai or (212) 759-7525, ext. 355.
---
Ralph Cossa is president of the Pacific Forum CSIS in Honolulu and senior editor of the Forum's quarterly electronic journal, Comparative Connections. He is the primary U.S. representative and former international cochair of the ASEAN Regional Forum Experts and Eminent Persons Group, as well as a founding member and current cochair of the multinational Council for Security Cooperation in the Asia Pacific (CSCAP). He is a political/military affairs and national security specialist with more than 40 years of experience in formulating, articulating, and implementing U.S. security policy in the Asia-Pacific and Near East–South Asia regions, with a particular focus on Northeast Asia security relations. He writes a regular column for the Japan Times and is a frequent contributor to the JoongAng Ilbo and other regional newspapers and periodicals. Mr. Cossa served in the U.S. Air Force from 1966 to 1993, achieving the rank of colonel and last serving as special assistant to the commander of the U.S. Pacific Command. He previously served as deputy director for strategic studies at the National Defense University's Institute for National Strategic Studies and earlier as a national security affairs fellow at the Hoover Institution at Stanford University. He holds a B.A. in international relations from Syracuse University, an M.B.A. from Pepperdine University, and an M.S. in strategic studies from the Defense Intelligence College. He received an honorary doctorate in international relations from the University of Cambodia for his lifetime of work in promoting peace and stability in East Asia.
---