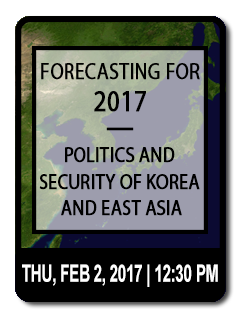 Featuring BowerGroupAsia managing director for Korea, Sue Mi Terry, and Park Strategies senior vice president Sean King, in conversation with senior director Stephen Noerper. Terry and King, two of the city's hottest analysts of Korean and East Asian trends and shifts, speak to concerns about North Korea, China's rise, and the early staking of the Trump administration. Bringing sensibilities born of business, academe and intelligence, Terry and King raise the specter on what to watch, scenarios unfolding, and the complexities of decision making in a new era.


Forecasting for 2017:
Politics and Security of Korea and East Asia

with

Sue Mi Terry
Managing Director for Korea, BowerGroupAsia
Sean King
Senior Vice President, Park Strategies
Tickets: $15 for Members and Students with a valid I.D., $25 for Guests
12:00 PM | Arrivals & Reception
12:30 PM | Discussion
Join our membership program here!
If you have any questions, please contact Nikita Desai or (212) 759-7525, ext. 355.
---
Sue Mi Terry is BowerGroupAsia's managing director for Korea. Prior, Sue served as a senior research scholar at Columbia University's Weatherhead East Asian Institute and as a national intelligence fellow at the Council on Foreign Relations. She was the deputy national intelligence officer for East Asia at the National Intelligence Council and served as director for Korea, Japan, and Oceanic Affairs at the National Security Council. She was a senior analyst on Korean issues at the Central Intelligence Agency. Sue has appeared on the BBC, CNN, NBC, Fox News, Bloomberg, and PBS. Sue is a graduate of the Fletcher School of Law and Diplomacy and NYU.

---
Sean King is SVP of Park Strategies, a business advisory firm managed by former Senator Alfonse D'Amato. Prior, King served at the United States Department of Commerce as Senior Advisor for Asia. Before joining Commerce, King was based in Singapore for both PricewaterhouseCoopers (PwC) and Citibank. Prior, he worked for the New York State Department of Economic Development. He is a frequent television guest and his opinions and quotes have appeared in numerous publications. He is a graduate of the University of Notre Dame and American University.

---
Stephen Noerper (moderator) is a Korea Society senior director and adjunct associate professor at Columbia University. He is a fellow at the Weatherhead East Asia Institute and Pacific Forum CSIS and member of the National Committee on North Korea.

---