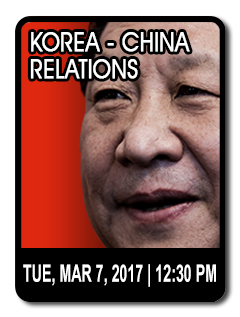 Korea-China Relations, featuring John Park, Harvard University, in conversation with senior director Stephen Noerper. John Park, co-author of Stopping North Korea Inc. (MIT, 2016), returns from Beijing and Seoul and offers new insights into the dynamics between the PRC and two Koreas. Seizing on sanctions and other preventive efforts to check DRPK nuclear weapons development, Park, who lectures at the Kennedy School, examines the business of North Korea, ties that may or may not bind, and the realities with which the new US administration must grapple.

Korea-China Relations

with

John Park
Director of the Korea Working Group at Harvard Kennedy
Stephen Noerper (moderator)
Senior director, The Korea Society
Korea Society Fellow, Patron, and Corporate members,
please register HERE for complimentary tickets.
Agenda
12:00 PM | Registration
12:30 PM | Discussion
Join our membership program here!
If you have any questions, please contact Nikita Desai or (212) 759-7525, ext. 355.

---
Dr. John Park is Director of the Korea Working Group and an Adjunct Lecturer at the Harvard Kennedy School. He is also a Faculty Affiliate with the Project on Managing the Atom at the Harvard Kennedy School's Belfer Center for Science and International Affairs. He was the 2012-13 Stanton Nuclear Security Junior Faculty Fellow at MIT's Security Studies Program. He previously directed Northeast Asia Track 1.5 projects at the U.S. Institute of Peace in Washington, D.C. These initiatives include the U.S.-China Project on Crisis Avoidance & Cooperation, the U.S.-ROK-Japan Trilateral Dialogue in Northeast Asia, and the U.S.-China-Japan Dialogue on Risk Reduction & Crisis Prevention. He advises Northeast Asia policy-focused officials at the Departments of Defense, State, and the Treasury, as well as on the National Security Council and Congressional committees.

Dr. Park worked at Goldman Sachs, where he specialized in U.S. military privatization financing projects. Prior to that, he was the project leader of the North Korea Analysis Group at the Harvard Kennedy School's Belfer Center. He earlier worked in Goldman Sachs' M&A Advisory Group in Hong Kong and The Boston Consulting Group's Financial Services Practice in Seoul. Dr. Park is a frequent commentator on Northeast Asian security issues on CNN, CNBC, and Bloomberg TV. Dr. Park received his M.Phil. and Ph.D. from Cambridge University, and completed his pre-doctoral and post-doctoral training at the Harvard Kennedy School's Belfer Center. Dr. Park is co-author of Stopping North Korea Inc. (MIT, 2016). His other publications include: "The Key to the North Korean Targeted Sanctions Puzzle," The Washington Quarterly (Fall 2014); "Assessing the Role of Security Assurances in Dealing with North Korea" in Security Assurances and Nuclear Nonproliferation (Stanford University Press, 2012); "North Korea, Inc.: Gaining Insights into North Korean Regime Stability from Recent Commercial Activities" (USIP Working Paper, May 2009); and "North Korea's Nuclear Policy Behavior: Deterrence and Leverage," in The Long Shadow: Nuclear Weapons and Security in 21st Century Asia (Stanford University Press, 2008).

---
Stephen Noerper (moderator) is a Korea Society senior director and adjunct associate professor at Columbia University. He is a fellow at the Weatherhead East Asia Institute and Pacific Forum CSIS and member of the National Committee on North Korea.
---
Of Interest: