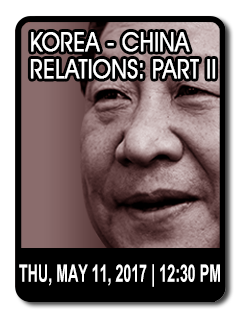 Korea Society President Thomas Byrne convenes a discussion on Korea-China Relations, with former Newsweek Beijing Correspondent Isaac Stone Fish and Stimson Center Senior Associate Yun Sun, formerly with the International Crisis Group's office in Beijing. This session follows on the Society's March Korea-China session with Harvard's John Park and focuses on the twists and turns of South Korea's economic and political relations with China, and examines the complexity of China's support for UN Security Council sanctions against North Korea.


Korea-China Relations: Part II

with

Yun Sun
Senior Associate with the East Asia Program at the Stimson Center

Isaac Stone Fish
Senior fellow at the Asia Society in New York City, on sabbatical from Foreign Policy Magazine

Thomas Byrne (Moderator)
President, The Korea Society
Korea Society Fellow, Patron, and Corporate members,
please register HERE for complimentary tickets.
Agenda
12:00 PM | Registration
12:30 PM | Discussion
Join our membership program here!
If you have any questions, please call (212) 759-7525, ext. 358.
---
Yun Sun is a Senior Associate with the East Asia Program at the Stimson Center. Her expertise is in Chinese foreign policy, U.S.-China relations and China's relations with neighboring countries and authoritarian regimes.

From 2011 to early 2014, she was a Visiting Fellow at the Brookings Institution, jointly appointed by the Foreign Policy Program and the Global Development Program, where she focused on Chinese national security decision-making processes and China-Africa relations. From 2008 to 2011, Yun was the China Analyst for the International Crisis Group based in Beijing, specializing on China's foreign policy towards conflict countries and the developing world. Prior to ICG, she worked on U.S.-Asia relations in Washington, DC for five years. Yun earned her master's degree in international policy and practice from George Washington University, as well as an MA in Asia Pacific studies and a BA in international relations from Foreign Affairs College in Beijing. https://www.stimson.org/users/3326#profile-expert
---
Isaac Stone Fish is a senior fellow at the Asia Society in New York City, on sabbatical from Foreign Policy Magazine. While at Foreign Policy, he was the publication's Asia Editor: he managed coverage of the region, and wrote about the politics, economics, and international affairs of China, Japan, and North Korea. Formerly a Beijing correspondent for Newsweek, Stone Fish spent seven years living in China prior to joining Foreign Policy. While there, he traveled widely in the region and in the country, visiting every Chinese province except lonely Jiangxi.

His views on international affairs have been widely quoted, including in MSNBC, NPR, CBS, the New York Times, the Washington Post, The Atlantic, Slate, The Guardian, PRI, the BBC, the Sydney Morning Herald, Talking Points Memo, and Al-Jazeera, among others; and in Chinese, Japanese, Korean, Taiwanese, and Vietnamese media. An experienced public speaker, Stone Fish has given talks at Columbia, Cornell, Duke, the University of Pennsylvania, Northwestern's Kellogg School of Management, the University of Washington in Seattle, University of Groningen in Holland, Fudan University (in Mandarin), among other universities; and at conferences, think tanks, and events around the world.

Besides publishing in Foreign Policy, where he has worked for the last four years, Stone Fish's articles have also appeared in The New York Times, the Washington Post, The Atlantic, The Guardian, Slate, The Daily Beast, Time, and the Los Angeles Times. While in Beijing, he served on the board of the Foreign Correspondent's Club of China, and, when the sky wasn't the color of glue, was an avid runner.

A fluent Mandarin speaker, Stone Fish is a graduate of Columbia University, where he studied Chinese literature. He is also a Global Shaper at the World Economic Forum, and a non-resident senior fellow at the University of Nottingham's China Policy Institute. In his spare time, he is writing a novel on North Korea.

http://www.isaacstonefish.com/#bio
---
| | |
| --- | --- |
| | Thomas Byrne (moderator) joined The Korea Society as its President in August of 2015. He comes to the Society from Moody's Investor Services, where he was Senior Vice President, Regional Manager, Spokesperson, and Director of Analysis for the Sovereign Risk Group in the Asia-Pacific and Middle East regions. Before moving to Moody's in 1996, he was the Senior Economist of the Asia Department at the Institute of International Finance in Washington DC. Tom has an MA degree in International Relations with an emphasis on economics from The Johns Hopkins School of Advanced International Studies. Before his graduate work, he served in South Korea for three years as a US Peace Corps volunteer. President Byrne teaches as an adjunct professor, at Columbia University's School of International and Public Affairs in New York City and at Georgetown University's Graduate School of Foreign Service in Washington, D.C. |
---
Of Interest: