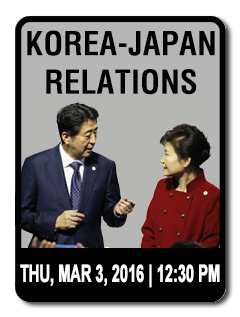 Frayed relations between Korea and Japan appear to be on the mend with the late December announcement aimed at drawing the comfort women issue to a close. In conveying his apology to President Park, Prime Minister Abe voiced hope for a new era in relations with South Korea. The US hailed the step forward by its key allies in Northeast Asia. Meanwhile, China's step-up of military activity in the South China and East China Sea and North Korea's January nuclear test and February missile test heightened shared concerns and underscored the need for bilateral cooperation. Korea Society Chairman Thomas Hubbard, discusses recent progress in Korea-Japan relations with Council on Foreign Relations Senior Fellow Dr. Sheila Smith in this timely and forward-looking session, co-organized with the Japan Society.


Korea-Japan Relations: Potential and Progress


Ambassador Thomas Hubbard
Senior Director, Asia Practice, McLarty Associates
Dr. Sheila Smith
Senior Fellow for Japan Studies, Council on Foreign Relations and author of Intimate Rivals: Japanese Domestic Politics and a Rising China
Welcome by Thomas Byrne, President of The Korea Society & Ambassador Motoatsu Sakurai, President of Japan Society
The Korea Society and Japan Society Member Tickets: $10
Non-Member Tickets: $20
12:00 PM | Registration
12:30 PM | Discussion
If you have any questions, please contact Nikita Desai or (212) 759-7525, ext. 355.
---
Ambassador Thomas Hubbard is Chairman of The Korea Society and senior director at McLarty Associates, where he specializes in Asian affairs. A career foreign-service officer for nearly forty years, he served as U.S. Ambassador to the Republic of Korea from 2001 to 2004, and before that as Ambassador to the Philippines from 1996 to 2000. He served seven years in Japan and was deputy chief of mission and acting ambassador in Malaysia. He held key Washington postings, including assistant secretary for East Asian and Pacific affairs. Ambassador Hubbard was a principal negotiator of the 1994 Agreed Framework aimed at ending North Korea's nuclear weapons program and headed the first senior-level U.S. government delegation to North Korea. He was also President Clinton's envoy to promote human rights and democracy in Burma. Ambassador Hubbard sits on numerous advisory boards. He received his BA in political science from the University of Alabama and has been awarded honorary doctorates by the University of Maryland and the University of Alabama.
Dr. Sheila Smith is an expert on Japanese politics and foreign policy, is senior fellow for Japan studies at the Council on Foreign Relations (CFR). She is the author of Intimate Rivals: Japanese Domestic Politics and a Rising China (Columbia University Press, 2015) and Japan's New Politics and the U.S.-Japan Alliance (Council on Foreign Relations, June 2014). Her current research focuses on how geostrategic change in Asia is shaping Japan's strategic choices. In the fall of 2014, Smith began a new project on Northeast Asian Nationalisms and Alliance Management . Smith is vice chair of the U.S. advisors to the U.S.-Japan Conference on Cultural and Educational Exchange (CULCON), a bi-national advisory panel of government officials and private sector members. She teaches as an adjunct professor at the Asian Studies Department of Georgetown University and serves on the board of its Journal of Asian Affairs. She earned her MA and PhD degrees from the department of political science at Columbia University.



---