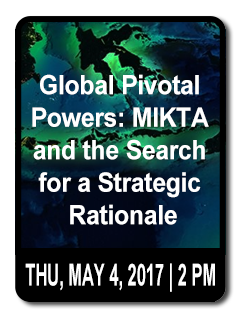 Perth USAsia Center CEO and Professor Gordon Flake and former Australian Foreign and Defense Minister Stephen Smith join in conversation with Korea Society President Thomas Byrne to examine new middle level diplomacies under MIKTA. Mexico, Indonesia, Korea, Turkey and Australia comprise this new initiative. Flake,a leading global expert on Korea, and Smith posit new possibilities associated with the arrangement. The May 4 gathering is the concluding lecture at the Korea Society's 950 Third Avenue at 57th Street location, and as a thank you to policy and corporate supporters, the program is offered free-of-charge. Reservations are required. Join the Korea Society this summer for its July 27 Veterans tribute and a resumption of public programs in the fall in its exciting new space at 350 Madison at 45th Street.


Global Pivotal Powers:
MIKTA and the Search for a Strategic Rationale

with

GORDON FLAKE
CHIEF EXECUTIVE OFFICER, PERTH USASIA CENTRE
STEPHEN SMITH
FORMER MINISTER FOR DEFENCE AND MINISTER FOR FOREIGN AFFAIRS
THOMAS BYRNE (Moderator)
PRESIDENT, THE KOREA SOCIETY
If you have any questions, please call (212) 759-7525, ext. 358.
---
Gordon Flake is the founding CEO of the Perth USAsia Centre, a position he assumed in January of 2014. He was previously Executive Director of the Maureen and Mike Mansfield Foundation, a Senior Fellow and Associate Director of the Program on Conflict Resolution at The Atlantic Council of the United States and prior to that Director for Research and Academic Affairs at the Korea Economic Institute of America.

Mr. Flake is editor of the companion volumes One Step Back? Reassessing and Ideal Security State for Northeast Asia 2025 (Mansfield Foundation, March 2011) and Toward an Ideal Security State for Northeast Asia 2025 (Mansfield Foundation, September 2010) co-editor with Park Roh-byug of the book New Political Realities in Seoul: Working toward a Common Approach to Strengthen U.S.-Korean Relations (Mansfield Foundation, March 2008) and co-editor with Scott Snyder of the book Paved with Good Intentions: the NGO Experience in North Korea (Praeger, 2003). He has authored numerous book chapters on policy issues in Asia and is a regular contributor to the press on Asia issues. He serves on the Board of the United States Committee of the Council for Security Cooperation in the Asia-Pacific (USCSCAP) as co-Vice Chair of the Board of the U.S. Committee for Human Rights in North Korea on the Advisory Council of the Korea Economic Institute of America, and on the International Advisory Board of the David M. Kennedy Center at Brigham Young University.

Mr. Flake was born in Rehoboth, New Mexico. He received his BA degree in Korean with a minor in international relations from Brigham Young University in Provo, Utah. He completed his MA at the David M. Kennedy Center for International and Area Studies, also at B.Y.U. He speaks both fluent Korean and Laotian.
---
Professor Stephen Smith was Federal Member for Perth for the Australian Labor Party from March 1993 until September 2013. In a distinguished career spanning 20 years in the Australian Federal Parliament, Professor Smith served as the Minister for Defence, and prior to that, as Minister for Foreign Affairs.

In opposition, Professor Smith held a range of Shadow Ministerial positions including Shadow Minister for Trade, Shadow Minister for Resources and Energy, Shadow Minister for Communications, Shadow Minister for Health, Shadow Minister for Immigration, Shadow Minister for Industry, Infrastructure and Industrial Relations and Shadow Minister for Education and Training.

Professor Smith is from Narrogin, in rural Western Australia and spent his early years in Narrogin and Southern Cross. He received his secondary school education at Christian Brothers High School Highgate in Perth.

Professor Smith completed his Bachelor of Arts and Bachelor of Laws at the University of Western Australia and has practised as a Barrister and Solicitor in Perth. He then completed a Master of Laws in Public International Law at London University, and subsequently lectured and tutored in Law in London.

From 1983 to 1987 Professor Smith was Principal Private Secretary to the Attorney-General of Western Australia. From 1987 to 1990 he was the State Secretary of the Western Australian Branch of the Australian Labor Party.

During 1991 and 1992, Professor Smith was Special Adviser to the Prime Minister of Australia and Senior Adviser to the Deputy Prime Minister and Treasurer of Australia, Paul Keating.

He is Chair of the Asia Desk of Perth Law firm Lavan and a member of the Government and Public Sector Advisory Board for Ernst and Young Australia.

Professor Smith was also on the board of Hockey Australia from November 2013 to November 2016, and maintains an active interest in cricket, hockey and Australian rules football. He is a proud member and keen supporter of the Fremantle Dockers football club.
---
| | |
| --- | --- |
| | Thomas Byrne (moderator) joined The Korea Society as its President in August of 2015. He comes to the Society from Moody's Investor Services, where he was Senior Vice President, Regional Manager, Spokesperson, and Director of Analysis for the Sovereign Risk Group in the Asia-Pacific and Middle East regions. Before moving to Moody's in 1996, he was the Senior Economist of the Asia Department at the Institute of International Finance in Washington DC. Tom has an MA degree in International Relations with an emphasis on economics from The Johns Hopkins School of Advanced International Studies. Before his graduate work, he served in South Korea for three years as a US Peace Corps volunteer. President Byrne teaches as an adjunct professor, at Columbia University's School of International and Public Affairs in New York City and at Georgetown University's Graduate School of Foreign Service in Washington, D.C. |
---
Of Interest:
MIKTA - THE SEARCH FOR A STRATEGIC RATIONALE

MIKTA - THE SEARCH FOR A STRATEGIC RATIONALE (PDF)

AUSTRALIA'S THINK TANK FOR THE CREATION OF STRONGER RELATIONSHIPS WITH ASIA AND THE UNITED STATES