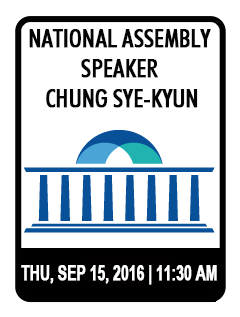 Speaker of the Republic of Korea's 20th National Assembly, Chung Sye-kyun, addresses current developments on the Korean Peninsula, the Korea-US alliance, and Korea's regional and global leadership in a special address to Korea Society members and guests.

National Assembly Speaker Chung Sye-kyun


The Honorable Chung Sye-kyun
The Speaker of the Republic of Korea's 20th National Assembly
Seating is by invitation and with advance confirmation.
Please contact policy "at" koreasociety.org for more information.
If you have any questions, please contact Nikita Desai or (212) 759-7525, ext. 355.
---
The Evolving ROK-US Alliance and Peace in Northeast Asia

1. Introduction

Chairman Thomas C. Hubbard,
President Thomas J. Byrne,
Ladies and gentlemen,

It is my great pleasure to be given this opportunity to share my thoughts with members of the Korea Society which has been playing catalytic roles in fostering Korea-US friendship.

Last Sunday marked the 15th anniversary of the 9/11 tragedy. On behalf of the people and the National Assembly of the Republic of Korea, I'd like to pay tribute to all those who lost their lives and to the families who lost their loved ones in the terror attacks.

I would also like to offer my respect for the strength and resilience of the American people for building the One World Trade Center, 'a new tower of hope' built on the site of the attack.

The Korea Society, which was established under the leadership of General James A. Van Fleet in 1957, will celebrate 60 years next year. Noting its dedication and service as a bridge between our two countries throughout its long history, which almost coincides with that of the ROK-US alliance, I would like to express my deep gratitude for your efforts to enhance the bilateral relations between our two countries. I especially appreciate your meaningful and constructive programs designed to foster mutual understanding between young people in the two countries.

On a personal note, the U.S. holds a special place in my heart. After graduating from college in Korea, I worked for an international trading company. Back then, Korea, a country with scarce natural resources, was making every effort to promote international trade as a driver of economic growth. As a young businessman working in overseas offices of a Korean trading company, I spent my 30s in New York and Los Angeles.

At that time, the US was enjoying its new heyday under Reaganomics based on a strong belief in a free-market economy. The US-led global free trade system provided Korea new opportunities for growth. I also gained valuable experience of studying in the US education system and watching the dynamism of the world over the shoulder of a giant called the United States.

2. Assessment of the ROK-US Alliance

Ladies and gentlemen,

Incubated in 1953 at the end of the Korean War, the Korea-US alliance began as an unbalanced alliance. Although it was created under the unusual circumstances of the Korean Armistice, it is now considered one of the most successful alliance relationships.

The prosperity of South Korea, which has successfully transformed itself from an aid recipient to an aid donor, would have never been possible without the solid foundation of the alliance over the last 60 years or so.

Witnessing the level of development on their returning journey to Korea after many decades, those Korean War veterans said they were touched by the remarkable results of their sacrifices of putting their lives on the line.

Even in this moment, the ROK and U.S. soldiers are standing shoulder to shoulder to protect peace on the Korean Peninsula with "ready to fight tonight" spirit. The people of South Korea deeply appreciate their support and commitment.

3. Political situation of the Korean Peninsula and Northeast Asia

3-1. Political Situation on the Korean Peninsula

Ladies and gentlemen, The ROK-US alliance has contributed tremendously to maintaining peace on the Korean Peninsula. However, it is still faced with unrelenting challenges from North Korea. That is why it needs to be further solidified despite consistent and successful outcomes of our cooperation for the last 60 years.

Even in the face of UN sanctions and other international restrictions, North Korea has devoted national energy and resources into advancing its military capabilities such as nuclear weapons and missiles rather than in upgrading living standard of people. Its continued reinforcement of the armed forces and provocations has put the Korean Peninsula's security in danger more than ever.

Its 4th nuclear test earlier this year has rightly aroused international concern. The successful test firing of SLBM or submarine launched ballistic missile) could be a game changer in the regional security dynamic.

Furthermore, just 3 days before my departure to the U.S., North Korea conducted its 5th nuclear test. With this test, it seems to have come very close to miniaturizing nuclear warheads. A North Korea equipped with nuclear attack capabilities using missiles has nearly become reality.

Cross-party leaders of the National Assembly including myself all resolutely oppose to such provocative actions and threats to peace on the Korean Peninsula and the international order. We share the view that international sanctions against such actions are inevitable.

However, the problem is that a wrong judgement or decision by North Korea with such dangerous weapons at hand might lead to devastating consequences on the Korean Peninsula. That is why the people of South Korea are deeply anxious about the increased sophistication of the North Korea's nuclear and missile programs.

Under the circumstances, the U.S. and ROK forces are required to retain a constant combat readiness posture within the frameworks of the robust ROK-US alliance. Also, the alliance needs to show, with no uncertainty, its will and capability to respond with immediate destruction in the event of any misjudgment or miscalculation on the part of North Korea.

However, sanctions and pressures alone are difficult to resolve the North Korean nuclear issue. Its regime is more solid in terms of its survivability than it might look from outside. It should never be overlooked that even after millions of its people died from hunger, and despite international pressures and sanctions, the North Korean regime still stands today.

I have a good understanding of the background of the Obama administration's "Strategic Patience" policy. Looking back, however, it seems that this policy has ended up giving North Korea time to advance their nuclear and missile technologies.

What I'm saying is not that sanctions are unnecessary, but that changing circumstances require a flexible approach. To jump to the conclusion, I believe that we need to take a dual track approach of using both sanctions and engagement.

3-2. Political situation in Northeast Asia

Distinguished guests,

Let us now turn our attention to Northeast Asia. Despite the global financial crisis, Northeast Asia has continued to serve as the engine of the world economy, and regional economic interdependence has been deepening at a rapid pace. However, regional security faces growing instability due to lack of trust. This is the so-called "Asia Paradox."

Threats to peace and stability in Northeast Asia include not only the North Korea's nuclear and missile capabilities, but also historical, territorial disputes between countries in the region as well as transnational crimes and natural disasters. With these threats continue to escalate, regional security faces growing instability.

The rising China is especially an important factor influencing the regional dynamics. China, which has undergone a remarkable evolution from the world's factory to the world's market, is intent on expanding its influence in East Asia based on its massive economic power.

Some people say that while Washington wants South Korea to join in its strategy of greater engagement with Asia, Seoul, being wary of Beijing, is taking a cautious approach. I will not deny that there exists such a difference in our perception. However, one thing that is clear is that the ROK-US alliance is a matter of life or death for South Korea.

That is especially true with continuing threats from North Korea. South Korea does not have the capabilities to deter against North Korea's ever-advancing nuclear program. That is why we need to further enhance the trust between militaries of the two countries.

4. Toward peace on the Korean Peninsula and Northeast Asia

4-1. Sanctions and engagement in parallel

Ladies and gentlemen!

North Korea's nuclear program is a fatal threat to South Korea. We cannot live with North Korea's nuclear weapons over our heads. South Korea opposes the North's nuclear development more decisively than any other country in the world. The matter must not be left to the whims of political strife. For South Korea, it is a matter of life and death.

South Korea, the United States, and the international community have placed strong pressure on North Korea for its wrong choices. The main purpose of sanctions against North Korea is to draw Pyongyang to the negotiating table and convince it to abandon its nuclear ambitions. But it's not so clear whether the pressure on Pyongyang has worked well.

Despite the UN Security Council Resolution 2270, considered the toughest non-military measure against a specific country in the UN's 70 year history, North Korea fired SLBM and conducted the 5th nuclear test. Already, three months have passed since the deadline for submitting the implementation report for the resolution. But thus far, less than a third of UN members have turned in their report.

North Korea should pay an appropriate price for its miscalculation. But it would be misguided to believe that sanctions are the answer to everything. It is also wishful thinking to see the defection of a handful of North Korean elites as a sign of regime collapse. Pyongyang has rapidly advanced its nuclear and missile capabilities, posing a challenge to the policy of "Strategic Patience." The 5th nuclear test has reduced the average time interval between the North Korea's nuclear tests from three years to six months.

Historically, Cuba, Iran, and Myanmar also faced international sanctions for a long time. Yet their regimes managed to survive. Regardless of whether it would happen or not, regime collapse in North Korea entails monumental challenges. And South Korea, the party with the most at stake, is not well-enough prepared for it, along with its unpredictable repercussions.

The best way forward is to exercise sanctions and engagement strategy simultaneously. While slapping sanctions on the North, the Resolution 2270 also calls for peaceful resolution of the North Korean nuclear issue through a dialogue. With sanctions in place, leverage over North Korea's key decision-makers should be ramped up.

To this end, the Iran nuclear deal is worth looking at. The deal was reached after marathon negotiations between the P5-plus-1 and Iran. I believe that such multilateral engagement is needed to induce change in North Korea.

Seven years have passed since the Six Party Talks came to a deadlock. And over that time, North Korea has never ceased its nuclear and missile program. The consequences are now being felt. Nevertheless, I believe that the experience of the Six Party Talks will remain a valuable asset in our journey toward a peaceful Korean Peninsula.

4-2. Dialogue among parliaments of the Six Party Talks countries

Distinguished guests,

The vicious cycle of the arms race in Northeast Asia does not correspond to the long-term interests of countries in the region. Such arms race will be a stumbling block to regional cooperation and will lead to the 'Security Paradox' where the security environment gets worse despite the tightened security.

At this moment, the most crucial thing is to reinforce the role of diplomacy. In this regard, I felt compelled to initiate a dialogue among the parliaments of the region, particularly those from the Six Party Talks countries, in order to alleviate any security instability brought on by situations on the Korean Peninsula and Northeast Asia.

Recently, I will send a letter and proposal to the speakers of the parliaments from the Six Party Talks countries step by step. Such dialogue will complement and facilitate discussions carried out at the government level.

The final objective of the initiative is to resolve North Korea's nuclear issues and to bring peace on the Korean Peninsula. In addition, a parliamentary dialogue will help ease tensions in the region. By broadening communication channels, it will help build up trust and present a vision of peace and shared prosperity.

When compared with ongoing government talks in the region, the parliaments can take a more flexible approach in their dialogues. Therefore, the inter-parliamentary dialogues can contribute to strengthened inter-governmental communication. In addition, the parliaments are better positioned than their governments to encourage participation and cooperation from civil society and private sector.

4-3. Korea-US alliance contributing to unification of two Koreas

Distinguished guests,

All the challenges we face, such as Pyongyang's provocations, discord over issues surrounding the Korean Peninsula, and the U.S's expectations of an increased South Korean role in the alliance will vanish if the two Koreas are reunified.

The U.S. has achieved several diplomatic breakthroughs in its relations with so-called rogue states which once posed serious challenges to its foreign policy. A dictatorship was put to an end in Libya, a historic deal was sealed with Iran, and diplomatic relations were normalized with Cuba. These represent some of the U.S.'s most exceptional diplomatic accomplishments.

In 2012, when President Obama visited Korea, the leaders of our two countries reaffirmed their commitment and support for a peaceful reunification of the two Koreas. Many Koreans remember the active cooperation and support that the U.S. gave in the German unification process. Koreans expect the U.S. to perform a similar role for the Korean unification.

The Berlin Wall was torn down much earlier than even experts anticipated. It happened mainly due to close diplomatic coordination between the U.S. and West Germany in convincing other stakeholders.

The Korea-U.S. alliance has been a great success. It will rise to an even higher plane if our concerted efforts can lead to reunification. Our two countries should join forces to convince neighboring countries and engage with Pyongyang, paving the path toward reunification.

5. The alliance evolves

Distinguished guests,

Looking ahead, the alliance faces three tasks.

First is to maintain a firm defense posture against North Korea's existing threats.

Second is to encourage Pyongyang to sit at the dialogue table while pursuing engagement with the North.

Last but not least is to elevate the alliance to another level to brace it for changing situation in a unified Korea and beyond as well as new world order.

Stability on the Korean Peninsula and increased chances of reunification will enable the alliance to reach farther beyond the Korean Peninsula. We will stand shoulder to shoulder as equal partners to share our responsibilities in addressing common international challenges.

Recently, we listened closely to the voices of ordinary American voters in the hotly contested presidential campaign. Korea will play its role as a mature and equal partner with the U.S. I'm confident that our enduring alliance will keep moving forward in a spirit of mutually respectful communication not in a one-way communication.

In the past, Korea underwent two major turns of fate when the U.S. scaled down its focus on the Korean Peninsula. Therefore, if the United States shifts its gear toward isolation policy in place of engagement policy on the Korean Peninsula and in East Asia, it definitely would be a big concern for the Korean people. I firmly believe that staying engaged in East Asia and fostering the forward-looking Korea-U.S. alliance serve the national interests of the U.S. as well as that of Korea.

6. Conclusion

Distinguished guests,

Although Europe experienced two World Wars, it established the regional economic community and now is developing into the regional political community. In spite of the deep historical wound, mutual understanding and cooperation have created the European Union.

However, Northeast Asia is still in the middle of the Cold War order and is at a new crisis point. But every crisis presents an opportunity. The region will assume a vital role in promoting global peace and shared prosperity in the 21st century.

To this end, I believe that the inter-parliamentary dialogue I have proposed will generate meaningful progress in overcoming the Asia Paradox, resolving North Korea's nuclear issue, and nurturing peace in the region.

If the initiative is to become a success, it should be underpinned by a strong ROK-U.S. alliance. Let me close by stressing that the Korea-U.S. alliance should aim higher than a security alliance and economic alliance in order to become an alliance for global values.

Once again, I thank Chairman Thomas Hubbard, President Thomas J. Byrne, and the members of the Korea Society for giving me this great opportunity.

Thank you.


The Honorable Chung Sye-kyun was elected Speaker of the 20th National Assembly of the Republic of Korea in June. He entered public service in 1996, when he was elected to the National Assembly. Dr. Chung served recently as a member of the Foreign Affairs and Unification Committee and was previously Chairman of the Special Committee on Reforms of the National Intelligence Service (NIS). Speaker Chung held key party posts, including chief of planning and policy coordination during the 2002 presidential campaign of Roh Moo-hyun. He served as Minister of Commerce, Industry and Energy and later Chairman of the Uri Party and then Democratic Party. Speaker Chung earned a Ph.D. in Business Administration from Kyung Hee University, an MBA from Pepperdine University, and a BA in Law from Korea University.
---