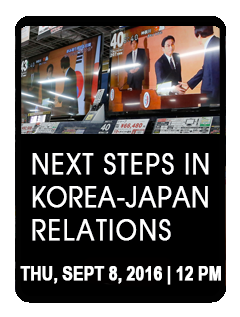 Pacific Forum CSIS executive director Brad Glosserman and Council on Foreign Relations fellow and director Scott Snyder, authors of The Japan-South Korea Identity Clash, address progress and potential in Korea-Japan relations in a session co-presented with the Japan Society. North Korea has conducted a fourth nuclear test, a long range missile test and multiple intermediate and short range missile launches this year. As a result, South Korea and Japan have accelerated their cooperation bilaterally, and trilaterally with the United States. The logjam of blocked Korea-Japan relations given territorial and historical memory disputes appears to have given way to the necessity for and practicality of security cooperation. However, this process has been slower and more fitful than many expected. Despite their proximity, their deeply intertwined histories and the convergence of many interests, there are considerable misperceptions in each country about the other. Glosserman and Snyder root many of these problems in the competing sense of national identity in each country. Glosserman and Snyder opine on constraints and opportunities, as well as shared concerns over North Korea's provocations and China's growing reach.


Next Steps in Korea-Japan Relations


Brad Glosserman
Executive Director of the Pacific Forum CSIS in Honolulu

Scott Snyder
Senior fellow for Korea studies and director of the program on U.S.-Korea policy at the Council on Foreign Relations (CFR)
The Korea Society and Japan Society Member Tickets: $15
Non-Member Tickets: $20
Explorer, YPN and above attend this program for FREE with RSVP
12:00 PM | Arrivals & Registration
12:30 PM | Discussion
If you have any questions, please contact Nikita Desai or (212) 759-7525, ext. 355.
---
Brad Glosserman is Executive Director of the Pacific Forum CSIS in Honolulu, a nonprofit, foreign policy research institute affiliated with the Center for Strategic and International Affairs (CSIS) in Washington, D.C. The Pacific Forum has provided policy-oriented analysis and promoted dialogue on regional security, political, economic and environmental issues in the Asia-Pacific region since 1975. He oversees all aspects of Pacific Forum activities.

Mr. Glosserman is co-editor of Comparative Connections, the Pacific Forum's triennial electronic journal, and writes, along with Pacific Forum President Ralph Cossa, the regional review. He is the author of dozens of monographs on U.S. foreign policy and Asian security relations and other articles have appeared in scholarly journals throughout the region, along with numerous chapters to books on regional security. The Japan-South Korea Identity Clash, his study (with Scott Snyder) of national identity in Japan and South Korea and its impact on US alliances was published by Columbia University Press in May 2015, and he recently completed a study (with Carl Baker) on the future of US alliances in Asia. He is wrapping up a manuscript on the impact of the March 11, 2011 "triple catastrophe" on Japan. He is the editor (with Tae-hyo Kim) of The Future of U.S.-Korea-Japan Relations: Balancing Values and Interests (CSIS Press 2004). His opinion articles and commentary regularly appear in media around the globe. He is a frequent participant in US State Department visiting lecture programs and speaks at conferences, research institutes and universities around the world. He is also the English-language editor of the journal of the New Asia Research Institute (NARI) in Seoul.
Prior to joining Pacific Forum, Mr. Glosserman was, for 10 years, a member of The Japan Times editorial board, and he continues to serve as a contributing editor for the newspaper. He periodically lectures at the Management Center of Innsbruck (MCI). Mr. Glosserman has a JD from George Washington University, an MA from Johns Hopkins University's School of Advanced International Studies (SAIS) and a BA from Reed College.
---
Scott Snyder is senior fellow for Korea studies and director of the program on U.S.-Korea policy at the Council on Foreign Relations (CFR), where he had served as an adjunct fellow from 2008 to 2011. Prior to joining CFR, Snyder was a senior associate in the international relations program of The Asia Foundation, where he founded and directed the Center for U.S.-Korea Policy and served as The Asia Foundation's representative in Korea (2000-2004). He was also a senior associate at Pacific Forum CSIS. Snyder has worked as an Asia specialist in the research and studies program of the U.S. Institute of Peace and as acting director of Asia Society's contemporary affairs program. Snyder was a Pantech visiting fellow at Stanford University's Shorenstein Asia-Pacific Research Center during 2005–2006, and received an Abe fellowship, administered by the Social Sciences Research Council, in 1998–99. He has provided advice to NGOs and humanitarian organizations active in North Korea and serves as co-chair of the advisory council of the National Committee on North Korea.
Snyder has authored numerous book chapters on aspects of Korean politics and foreign policy and Asian regionalism and is the author of The Japan-South Korea Identity Clash: East Asian Security and the United States (with Brad Glosserman, 2015), China's Rise and the Two Koreas: Politics, Economics, Security (2009), Paved With Good Intentions: The NGO Experience in North Korea (co-editor, 2003), and Negotiating on the Edge: North Korean Negotiating Behavior (1999).
Snyder is the co-editor of North Korea in Transition: Politics, Economy, and Society (Rowman and Littlefield, October 2012), and the editor of Middle-Power Korea:Contributions to the Global Agenda (Council on Foreign Relations, June 2015), Global Korea: South Korea's Contributions to International Security (Council on Foreign Relations, October 2012) and The U.S.-South Korea Alliance: Meeting New Security Challenges (Lynne Rienner Publishers, March 2012). He served as the project director for CFR's Independent Task Force on policy toward the Korean Peninsula. He currently writes for the blog, "Asia Unbound."
Snyder received a BA from Rice University and an MA from the regional studies East Asia program at Harvard University and was a Thomas G. Watson fellow at Yonsei University in South Korea.
---
Of Interest:
Japan, South Korea inch towards better bilateral ties
---
Co-organized with: