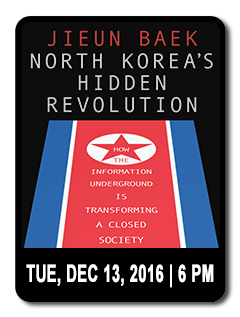 Jieun Baek discusses North Korea's Hidden Revolution, her new book on the information network growing within North Korea through exposure to foreign films, television, and books. Baek argues that access to information is sparking irreversible change in the social and political consciousness of North Korean citizens. A book signing follows.

North Korea's Information Revolution

Jieun Baek
Fellow, Belfer Center

Tickets: $10 for Members, $20 for Guests
Explorer Level and YPN Members Register Here

5:30 PM | Arrivals & Reception
6:00 PM | Discussion
If you have any questions, please contact Nikita Desai or (212) 759-7525, ext. 355.
---
Jieun Baek is a Ph.D. candidate in Public Policy at the University of Oxford. Previously, she was a research fellow at the Belfer Center for Science and International Affairs at Harvard University where she wrote North Korea's Hidden Revolution: How the Information Underground is Transforming a Closed Society. Her book will be published by Yale University Press in November, 2016. Baek worked at Google, where, among other roles, she served as Google Ideas' North Korea expert. Baek received her bachelor's in Government and master's degrees in Public Policy from Harvard. Her hometown is Los Angeles, California. Visit her at http://www.JieunBaek.com .
---
Of Interest:
- Coming of Age in North Korea
- Thanks for the memory cards: North Koreans return home from China
---