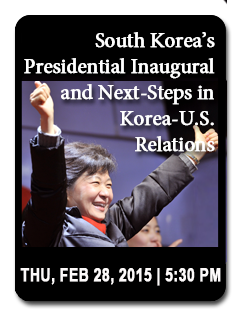 Experts reflect on President Park Geun-hye inauguration, promises of greater "economic democracy" at home and a new trustpolitik with the North, and relations with the U.S. Stanford University's David Straub, The Council on Foreign Relations' Scott Snyder, and Yonsei University's John Delury address these issues, with an eye toward evolving regional dynamics.
---
Park's Inaugural: North Korea Policy

Park's Inaugural Address

Park's Inaugural: Challenges Ahead

Report from Korea's Presidential Inaugural
---

Thursday, February 28, 2013
5:00 PM | Registration
5:30 PM | Discussion
South Korea's Presidential Inaugural and Next-Steps in Korea-U.S. Relations

with
Scott Snyder
Senior Fellow for Korea Studies, Council on Foreign Relations
David Straub
Associate Director of Korean Studies Program, Stanford University
John Delury
Assistant Professor of East Asian Studies, Yonsei University

Moderated by Dr. Stephen Noerper
Senior Vice President, The Korea Society
If you have any questions, please contact Nikita Desai or (212) 759-7525, ext. 355.