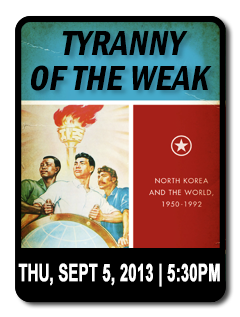 Columbia University Professor Charles Armstrong unveils his latest work, Tyranny of the Weak: North Korea and the World, 1950-1992, for members and media. Armstrong exposes the motivations, processes and effects of DPRK Cold War foreign relations. Drawing from Soviet, Chinese and East German archives, he reveals how North Korea managed fellow communist states, maintained independence during the Sino-Soviet split, reached out to the West, presented itself as a Third World model, and confronted and engaged the U.S. and ROK. From the Korean War through Soviet decline, his coverage reveals how--despite weakness--North Korea has dealt with the outside world to its advantage and resisted pressure to change--of which an understanding today is as urgent as sixty years ago.
---
$10 Members, $20 Guests, $5 Students
Explorers and Young Professionals' Network Member tickets are free but registration required here.
5:00 PM | Registration
5:30 PM | Discussion
Co-sponsored with The Center for Korean Research at Columbia University.