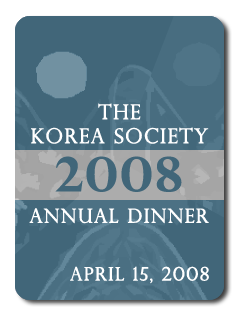 DINNER PROGRAM
Grand Ballroom
The Plaza
New York City
April 15, 2008

WELCOME
Mr. Evans J.R. Revere
President
The Korea Society

REMARKS
The Honorable Carlos M. Gutierrez
Secretary
U.S. Department of Commerce

Introduction by
Mr. Evans J.R. Revere
His Excellency Ban Ki-Moon
Secretary-General
United Nations
Introduction by
Mr. Dong-Jin Oh
President & CEO
Samsung Electronics America, Inc.
The Honorable Christopher R. Hill
Assistant Secretary
Bureau of East Asian and Pacific Affairs
U.S. Department of State
Introduction by
Mr. Spencer H. Kim
Chairman
CBOL/Celltron
DINNER REMARKS
The Honorable Donald P. Gregg
Chairman
The Korea Society
KEYNOTE ADDRESS
His Excellency Lee Myung-Bak
17th President of the Republic of Korea
Introduction by
Mr. Stanley C. Gale
Chairman
Gale International

MUSICAL INTERLUDE
Musicians from the New York Philharmonic
JAMES A. VAN FLEET AWARD CEREMONY
Honorees
Peace Corps Korea Volunteers
Accepted by
The Honorable Kevin O\'Donnell
First Country Director for Peace Corps Korea
Former Peace Corps Director
Introduction by
Dr. Hur Dong-Soo
Chairman and CEO
GS Caltex Corporation
Mr. Don Oberdorfer
Chairman, U.S.-Korea Institute
School of Advanced International Studies
John Hopkins University
Introduction by
Mr. Byung Mo Ahn
Group President and CEO
KMA and Kia Motors Manufacturing Georgia
Awards presented by
His Excellency Lee Myung-Bak
CLOSING REMARKS
Mr. Evans J.R. Revere


Guest of Honor
Lee Myung-Bak
President of the Republic of Korea
Before becoming the 17th president of the Republic of Korea, Lee Myung-Bak was a prominent Hyundai businessman, imaginative politician in the National Assembly and successful mayor of Seoul. His illustrious career, along with the story of his rise from his humble beginnings, has been a source of inspiration for many young Koreans.
Born on December 19, 1941 to a poor family from Pohang, a port city in southeastern Korea, President Lee paid his way through high school and college by rising early every morning, collecting trash and sweeping the streets. He has maintained the habit of waking up early ever since, rising before 5 AM every day.
After joining Hyundai Construction in 1965, his achievements included the construction of the Pattani- Narathiwat Highway in Thailand and the Seoul-Busan (Gyeongbu) Highway in Korea, both of which later became the backbone of economic development in the respective countries. President Lee also led the construction of Iraq's Arabian Repair Shipyard and Jubail Industrial Port as well as Malaysia's Penang Bridge, the second longest in the world at the time. He also spearheaded Hyundai's drive to modernize Korea's Presidential housing stock by planning and building modern apartment complexes. On the strength of these accomplishments, President Lee rose to become CEO of Hyundai Construction in just 12 years.
As CEO of Hyundai Construction, President Lee oversaw Hyundai's automobile, heavy industry and shipbuilding units, which eventually became Hyundai Motors, Hyundai Heavy Industry and Hyundai Shipbuilding, respectively. He held CEO positions at ten different Hyundai affiliates, including Hyundai Engineering and Incheon Steel, before leaving the company in 1992.
After leaving Hyundai, President Lee served two terms in the National Assembly before being elected mayor of Seoul in 2002. The most notable achievement of his service as mayor was the restoration of Cheonggyecheon, a 6.5 kilometer stream that had been buried by concrete for 40 years. The project was an audacious one. To uncover the stream, he had to remove an eight-lane highway and 5.8 kilometer overpass that carried 270,000 vehicles daily. Moreover, the restoration faced harsh opposition from many local interest groups. President Lee set out to forge a consensus among the 220,000 business owners, residents and street vendors of the area by conducting more than 4,000 dialog sessions. Eventually, the project succeeded, reviving Seoul's ecosystem and enlivening the city center. Now, more than 30 million people visit Cheonggyecheon annually. The project earned the Best Public Administration award at the Venice Biennale's 9th International Architecture Exhibition in 2005. For his support of the project, President Lee was named one of the "Heroes of the Environment" by TIME magazine in 2007.
Under President Lee's watch, the city of Seoul excelled in e-government practices and was ranked first in the world in 2003 and 2005 in the biennial global e-government report. He also helped to transfer Seoul's e-government innovations to Moscow, Hanoi and Ulaanbaatar.
In 2007, President Lee won the Grand National Party's nomination for president. He promised to usher in a new era of pragmatism during his campaign for the presidency. As outlined in his inaugural speech, President Lee's vision for Korea is "a nation where the government serves its people with devotion, a nation where the economy is robust and the weak and the marginalized are taken care of...a nation where the best and the brightest are fostered, and welcomed by the rest of the world, and which attracts the world's best and brightest to come and work." He also promised that Korea would pursue global diplomacy in a manner commensurate with its stature so as to contribute to peace and stability around the world. The Korean people have responded positively to this vision.
President Lee was elected president on December 19, 2007 and sworn in on February 25, 2008. He won the election by a wide margin in all categories-region, age group and income level-and placed ahead of the nearest runner-up by 5.28 million votes, representing 22.5 percent of the total ballots cast. Coincidentally, December 19 happens to be his birthday as well as his wedding anniversary.
This is President Lee's first trip to the United States as president of the Republic of Korea.
---
2008 Van Fleet Award Honorees
(on behalf of Peace Corps Korea Volunteers)
Kevin O'Donnell
First Country Director for Peace Corps Korea
Former Peace Corps Director
Kevin O'Donnell is recognized throughout the Peace Corps community as a great champion of the agency, having established Peace Corps Korea in the 1960's and fought successfully for the survival of the Peace Corps worldwide as the agency's fourth director in 1971.
O'Donnell began his service to the Peace Corps in 1966, only six years after John F. Kennedy's challenge to Americans to give two years of their life to service abroad. The program was only five years old at the time, and its long-term viability was far from certain.
As the first country director for Korea, O'Donnell faced the formidable challenge of establishing a new program in an unfamiliar country, including negotiating with government ministries and building curricula that addressed Korean needs in math, science, English and physical education. He also had to make provisions for meeting the physical requirements of the 300- plus American Peace Corps volunteers who came to Korea on their missions of peace and friendship during his tenure as country director.
For his exemplary work, O'Donnell received the Republic of Korea's Order of Civil Merit from President Park Chung-hee in 1970.
After his return to the U.S., O'Donnell was appointed director of the Peace Corps in 1971 when the agency's budget was under fire by opponents in Congress. O'Donnell's robust advocacy and strong sense of purpose and mission is credited with convincing the Nixon administration to save the Peace Corps's budget. Not one volunteer was recalled for budgetary reasons under O'Donnell's stewardship.
As a strong believer in the Peace Corps ethic of non-careerist service, O'Donnell left the Corps in 1972 to become the executive vice president of SIFCO Industries, Inc., and eventually the company's CEO in 1980.
O'Donnell holds an undergraduate degree from Kenyon College in Gambier, Ohio, and an MBA from Harvard Business School. He has served on the boards of various companies and organizations, and currently works as managing director of O'Donnell & Associates, a consulting firm.
The legacy of the example O'Donnell set in his devotion to public service is best exemplified by his daughter Megan and granddaughter Allison, both of whom have followed in his footsteps to become Peace Corps volunteers.
---
Don Oberdorfer
Don Oberdorfer is chairman of the U.S.-Korea Institute at the Paul H. Nitze School of Advanced International Studies (SAIS) of Johns Hopkins University. He joined SAIS in 1993 upon retiring from a 38-year career as a journalist covering national and international affairs.
Oberdorfer is a native of Atlanta, Georgia. He graduated from Princeton University in 1952 and served as a U.S. Army lieutenant in Korea immediately following the signing of the Korean War armistice in 1953.
He began his journalistic career in 1955 on the Charlotte Observer and also worked for the Saturday Evening Post and as a national correspondent of the Knight Newspaper chain. In 1968 he joined the Washington Post, where he served as White House correspondent, Northeast Asia correspondent based in Tokyo, and for 17 years, as a diplomatic correspondent covering U.S. relations with the rest of the world.
He has received many awards for journalistic excellence, including the National Press Club's Edwin M. Hood Award for diplomatic correspondence in 1981 and again in 1988, and Georgetown University's Edward Weintal prize for diplomatic reporting in 1982 and 1993. In 1996 Princeton bestowed on him its annual Woodrow Wilson Award that is given to a graduate who has performed exemplary service to the nation.
Oberdorfer is the author of five books: Tet!, a political-military history of the turning point of the Vietnam War (1971); The Turn: From the Cold War to a New Era (1991) Princeton University: The First 250 Years (1995); The Two Koreas: A Contemporary History (1997) and Senator Mansfield (2003).
From 1986 to 1989, Oberdorfer was chairman of the Advisory Committee of the Washington Center of the Asia Society. He was president of Overseas Writers, a professional association of U.S. and foreign journalists who focus on diplomacy in Washington, from 1994 to 1996.
He is married to the former Laura Klein. Their son, Dan, is an attorney in Minneapolis. Their daughter, Karen, is a small business proprietor in the San Francisco Bay area.
---
Speakers
Carlos M. Gutierrez
Secretary
U.S. Department of Commerce
Carlos M. Gutierrez is the 35th Secretary of the U.S. Department of Commerce, the voice of business in government. The former chairman of the board and chief executive officer of Kellogg Company, Secretary Gutierrez is a core member of President Bush's economic team. In nominating Mr. Gutierrez, President Bush said, "He understands the world of business, from the first rung on the ladder to the very top. He knows exactly what it takes to help American businesses grow and to create jobs."
A top priority for Secretary Gutierrez is prying open global markets for U.S. companies so they can continue innovating and competing to build a stronger American economy. The Secretary regularly travels internationally to visit with foreign government and business leaders to discuss ways to enhance trade and promote U.S. exports. He played a key role in the passage of CAFTA-DR, a landmark agreement that strips away trade barriers, expands export opportunities and boosts hope and opportunity throughout Latin America. He believes passionately in President Bush's vision of a 21st century where America is the best country in the world to do business and where everyone has the opportunity to experience the joy and pride of living the American Dream. "We have the best people, we have the training, we have the culture," Gutierrez says. "I believe the 21st century is really and truly the American century."
Secretary Gutierrez oversees a diverse Cabinet agency with some 38,000 workers and a $6.5 billion budget focused on promoting American business at home and abroad. His Department gathers vast quantities of economic and demographic data to measure the health and vitality of the economy, promotes U.S. exports, enforces international trade agreements and regulates the export of sensitive goods and technologies. Commerce also issues patents and trademarks, protects intellectual property, forecasts the weather, conducts oceanic and atmospheric research, provides stewardship over living marine resources, develops and applies technology, measurements and standards, formulates telecommunications and technology policy, fosters minority business development and promotes economic growth in distressed communities.
---
Ban Ki-moon
Secretary-General
United Nations
Ban Ki-moon of the Republic of Korea, the eighth secretary-general of the United Nations, brings to his post 37 years of service both in government and on the global stage.
At the time of his election as secretary-general, Ban was his country's minister of Foreign Affairs and Trade. His long tenure with the ministry included postings in New Delhi, Washington D.C. and Vienna, and responsibility for a variety of portfolios, including foreign policy advisor to the president, chief national security advisor to the president, deputy minister for policy planning and director-general of American affairs. Throughout this service, his guiding vision was that of a peaceful Korean peninsula, playing an expanding role for peace and prosperity in the region and the wider world.
Ban has longstanding ties with the United Nations, dating back to 1975, when he worked for the Foreign Ministry's United Nations division. That work expanded over the years, with assignments as first secretary at the ROK's Permanent Mission to the UN in New York, director of the UN Division at the ministry's headquarters in Seoul, and ambassador to Vienna, during which time, in 1999, he served as chairman of the Preparatory Commission for the Comprehensive Nuclear Test Ban Treaty Organization. In 2001-2002, as chef-de-cabinet during the ROK's presidency of the General Assembly, he facilitated the prompt adoption of the first resolution of the session, condemning the terrorist attacks of September 11, and a number of other initiatives aimed at strengthening the Assembly's functioning.
Ban has also been actively involved in issues relating to inter-Korean relations. In 1992, as special advisor to the foreign minister, he served as vice chair of the South-North Joint Nuclear Control Commission following the adoption of the historic Joint Declaration on the Denuclearization of the Korean Peninsula. In September 2005, as foreign minister, he played a leading role in bringing about the adoption at the Six-Party Talks of the joint statement on resolving the North Korean nuclear issue.
Ban received a bachelor's degree in international relations by Seoul National University in 1970. In 1985, he earned a master's degree in public administration from Harvard University.
Co-Chairs

CHUNG Mong-Koo
Chairman
Hyundai-Kia Automotive Group

Stanley C. GALE
Chairman
Gale International

Spencer H. KIM
Chairman
CBOL/Celltron

NAM Yong
Vice Chairman and CEO
LG Electronics

YUN Jong-Yong
Vice Chairman and CEO
Samsung Electronics Co., Ltd.

Benefactor

William R. RHODES
Chairman, Citibank N.A.
Senior Vice Chairman, Citigroup Inc.

CHO Suck-Rai
Chairman
The Federation of Korean Industries
HUR Dong-Soo
Chairman & CEO
GS Caltex Corporation
KIM Seung-Youn
Chairman
Hanwha Group
MIN Keh-Sik
Vice Chairman & Co-Chief Executive Officer
Hyundai Heavy Industries
PARK Sam-Koo
Chairman
Kumho Asiana Group
Richard M. CASHIN
Chairman
One Equity Partners
CHEY Tae-Won
Chairman
SK
Bill HWANG
Managing Partner
Tiger Asia Management L.L.C.
Patron
Florence A. DAVIS
President
The Starr Foundation

Edward T. CLOONAN
Vice President
American International Group, Inc.

Sponsor
CHANG Young-Shin
Chairwoman
Aekyung Group
HYUN Hong-Choo
Senior Partner
Kim & Chang
KANG Chung Won
President & CEO
Kookmin Bank
Richard F. WACKER
President & CEO
Korea Exchange Bank
LEE Hee-Beom
Chairman & CEO
Korea International Trade Association
Chong-Yun PARK
Partner
KPMG LLP

Duncan L. NIEDERAUER
Chief Executive Officer
NYSE Euronext

Young H.T. CHO
Partner
PricewaterhouseCoopers LLP
Stephen PELLETIER
Chairman and CEO
Prudential International Investments
Ra Eung Chan
Chairman
Shinhan Financial Group
Park Hae Choon
President and CEO
Woori Bank
Benefactor

CBOL/Celltron
Citigroup Inc.
The Federation of Korean Industries
Gale International
GS Caltex Corporation
Hanwha Group
Hyundai-Kia Automotive Group
Hyundai Heavy Industries
Kumho Asiana Group
LG Electronics
One Equity Partners
Samsung Electronics Co.
SK
Tiger Asia Management L.L.C.


Patron

American International Group, Inc.
The Starr Foundation


Contributor

Corning
Goldman Sachs
Metlife

Sponsor

Aekyung Group
Kim & Chang
Kookmin Bank
Korea Exchange Bank
Korea International Trade Association
KPMG LLP
NYSE Euronext
PricewaterhouseCoopers LLP
Prudential International Investments
Shinhan Financial Group
Woori Bank
Hee-Jung Shin and John Joohahn Moon


Donor

Deloitte & Touche USA LLP
Robert E. Fallon
Gale International
Korean Consulate General
Lazard Asset Management
SK
Syracuse University
Youngone Corporation
You may also enjoy...