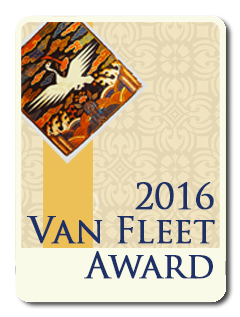 ---
2016 Van Fleet Award Honoree

KWON OHJOON
CHAIRMAN & CEO
POSCO
Dr. Kwon Ohjoon is Representative Director and Chief Executive Officer of POSCO. Prior to his appointment in March 2014, he was President and Chief Technology Officer of POSCO since March 2012.

Dr. Kwon joined POSCO in 1986 and led the development of its technology and research division. He served as Head of Technical Research Laboratories of POSCO from 1996 to 2009 and CEO of RIST(Research Institute of Industrial Science & Technology) from 2009 to 2011.

Since February 2014, Chairman Kwon has been serving as Vice Chairman of the Federation of Korean Industries and the Korea Employers Federation. He was appointed as Chairman of the Korea Iron & Steel Association and the Korea-Australia Business Council in March 2014. Dr. Kwon was also elected as a Member of the Executive Committee of the World Steel Association in October 2014 and as Chairman of the Board of Trustees at POSTECH Foundation in January 2015. In June 2015, he was appointed as Chairman of the National Academy Engineering of Korea.

Dr. Kwon was awarded the Outstanding Young Member Award from American Society for Metals in 1980. He was also awarded the IR52 Jang Young Shil Award from Korea Industrial Technology Association in 1996 and the Charles Hatchett Award from The Institute of Materials (UK) in 1997. Some of the other awards and recognitions Mr. Kwon received include the Order of Industrial Service Merit – Bronze Tower from Government of Korea in 2008 and The Best CTO Award from Korea Industrial Technology Association in 2013.

Dr. Kwon completed his doctorate in Materials Science & Engineering from The University of Pittsburgh in 1985. He also holds Bachelor of Science in Metallurgy from the Seoul National University in 1972.

Born on July 6, 1950, Dr. Kwon is married and has a son and a daughter.


---