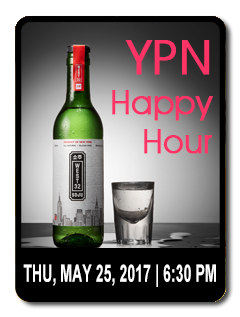 The Korea Society is hosting a happy hour for Young Professionals featuring West 32 Soju. Network with other Young Professionals and enjoy complimentary soju cocktails and delicious Korean finger food! This will be the last social event at our current office, 950 Third Avenue, and we hope everyone joins us to help say goodbye to our office as we look forward to a new Young Professional series at our new home, 350 Madison Avenue, when the Society moves there at the end of June.
YPN Happy Hour with West 32 Soju
Thursday, May 25, 2017 | 6:30–8:30 PM
Tickets: $15 for Members, $25 for Non-members
Korea Society Supporters [formerly Explorers] and above register free here
Not a member? Click
here
to join.
If you have any questions, please contact Kloe Byun or (212) 759-7525, ext. 321.
---
When Koreans want to have fun, soju is always included. Distilled in the country for hundreds of years, low-proof "Korean vodka" is the most important guest at social gatherings, parties, and celebrations. Some sojus have fruity notes; others are described as milky. But almost all sojus are sweet – sometimes intensely so.

These days, most sojus are mass-produced and mixed with artificial flavorings, sweeteners, and other tongue-twisting chemicals. The result is what you might expect: an overly processed, sickly sweetened beverage with a lingering, unpleasant aftertaste. This is far removed from the original Korean drink.

West 32 Soju was created to continue the time-honored Korean ritual of celebrating life with soju. West 32 Soju is made from distilled corn so it's naturally gluten free. Our soju is sweetened with a touch of natural cane sugar and then triple-filtered for an exceptionally smooth finish. Made from the highest quality all-natural ingredients, the result is simply the best soju. Chill a bottle of West 32 Soju and drink it neat, or mixed into cocktails for a Korean kick.