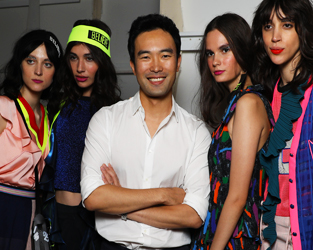 Step into the global phenomenon known as Hallyu, or the Korean wave, with Chung Chung Lee, creator behind the fashion label LIE and son of legendary designer, LIE SANG BONG. Chung Chung is a pioneer in expanding awareness of Korean fashion at 2018 New York Fashion Week through "Concept Korea," a biannual fashion show supported by South Korea's Ministry of Culture, Sports, and Tourism. At the Korea Society's event, Chung Chung shares the inspiration behind his past seasonal fashion shows. For fashionistas interested in learning more about up-and-coming K-fashion trends, this event is not to be missed!

Followed by a reception with light fare.
The Rise of K-fashion, LIE
with Chung Chung Lee
Monday, February 12, 2018 | 12 PM
@ The Korea Society 
350 Madison Avenue, 24th Floor, NYC
---
ABOUT THE DESIGNER
Commencing his design career in menswear on the famed Savile Row under the guidance of the celebrated menswear designer Oswald Boateng, Chung solidified his tailoring skills, which eventually led to launching a menswear line, A. Hallucination in London. Upon the introduction of his first collection, Chung received critical acclaim by notable fashion magazines such as Vogue UK and GQ UK followed by multiple awards including two consecutive "Winner of Ones to Watch" awards in 2010 and 2011 by Vauxhall Fashion Scout, "Bright Young Things" by Selfridges, and "Menswear Designer" award given by Fashion's Finest Awards in 2011.

In 2011, Chung partnered with his sister Nana to form the fashion label LIE. Defined by a masterful blending of geometric patterns and shapes, each collection manifests their multicultural perspective through a playful yet restrained use of sculptural shapes, proportion, and texture accompanied by intricate details and tailoring.

Since its launch, LIE has grown to include two free standing stores in Korea, multiple pop-up shops throughout Asia and a permanent section in the flagship LIE SANGBONG Concept store in New York's Meatpacking District. The line is distributed across the globe including select boutiques, specialty shops and department stores in Korea, Singapore, China, Turkey, Middle East, Canada, and the United States. A crucial component of LIE's global expansion plan, LIE is set to make its official US debut this fall with its spring summer 2018 collection during New York Fashion Week through which Chung endeavors to reach a wider global audience. With a team that's located worldwide, the brand continues to grow and evolve by exploring new possibilities while remembering its roots.
---