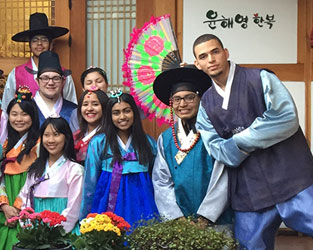 Each year, The Korea Society provides Youth Ambassadors from New York and Los Angeles with a six-month program of leadership development, self reflection, and intercultural understanding that culminates in ten days of total cultural immersion in Korea. On June 20th, the New York-based Youth Ambassadors will present their final reports on their Project Bridge journey to teachers, friends, family, and members of The Korea Society. 

We encourage current New York City public high school sophomores and juniors to attend and learn more about how to apply to be part of Project Bridge 2017-2018.

Project Bridge is made possible with grants from the Korea Foundation.
Free Event
Early Registration Requested
RSVP here.
Project Bridge 2016-2017 Community Presentation
Tuesday, June 20, 2017
7:00 PM  |  Greetings
7:05 PM  |  Youth Ambassador Presentations
8:00 PM  |  Korean Dinner (provided)
8:30 PM  |  Q&A
---
2016-2017 NY Youth Ambassadors
Salma Elboute, Williamsburg Prep High School
Shenelle Helwig, The Young Women's Leadership School of Queens
Alexander Herrera, Millennium High School
Tiffany Lim, NYC Lab School for Collaborative Studies
Juan Meija, Flushing International High School
Rahem Shreeves, International Leadership Charter School
Corinne Southern, High School For Language & Diplomacy
Frank Visnadul, Brooklyn Technical High School
---